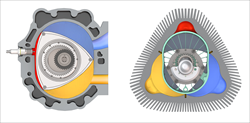 As autonomous vehicles become a reality and demand grows for alternative engine technology to power hybrids and EV's, we're witnessing a resurgence of the rotary engine.
BLOOMFIELD, Conn. (PRWEB) April 09, 2018
LiquidPiston Inc., an advanced internal combustion engine technology company, will be exhibiting and presenting two peer-reviewed technical papers at SAE International's WCX World Congress Experience being held in Detroit April 10-12. The three-day event will feature in-depth and engaging discussions on the mobility-engineering field through technical sessions and an exhibition.
LiquidPiston, will present one paper titled "Performance of a Low-Blowby Sealing System for a High Efficiency Rotary Engine," and another titled "Preliminary Development of a 30 kW Heavy Fueled Compression Ignition Rotary 'X' Engine with Target 45% Brake Thermal Efficiency," to some of the 11,000 automotive engineers and technology executives that will be attending the congress. Both papers were officially published by SAE International ahead of the show.
The rotary 'X' engine developed by LiquidPiston offers an efficient, compact, lightweight, quiet, and vibration-free power solution. The 'X' engine, essentially the "inverse" of a Wankel type rotary engine, operates on a higher efficiency thermodynamic cycle, fundamentally improving engine efficiency. The R&D efforts presented at WCX illustrate the engine's unique low-blowby sealing approach, addressing the challenges of prior generation Wankel rotary engines. The second paper presents a development update toward a high efficiency 30kW engine operating with Compression Ignition on Diesel fuel, in a platform that fits in a 10" box, and targets 45% brake thermal efficiency.
"As autonomous vehicles become a reality and demand grows for alternative engine technology to power hybrids and EV's, we're witnessing a resurgence of the rotary engine," said Dr. Alexander Shkolnik, co-founder and CEO of LiquidPiston. "The efficiency and the power-to-weight ratio of next-generation rotary X engines make them the ideal solution to extend the range of EV's, allowing vehicle manufacturers to use smaller, lighter, cheaper batteries, and allowing drivers the ability to rapidly refuel their vehicle with existing infrastructure."
For more information on WCX World Congress Experience and to follow developments from the show floor live, visit http://www.sae.org/wcx. LiquidPiston will be showcasing its engines in Booth 14019.
About LiquidPiston
LiquidPiston, headquartered in Bloomfield, Conn., is revolutionizing next-generation engine development. The company develops and licenses compact & efficient power solutions based on an optimized thermodynamic cycle and a new type of rotary engine architecture. LiquidPiston's patented high-efficiency cycle is the biggest leap forward in combustion engine technology over the last 85 years. For more, see http://www.liquidpiston.com.
About SAE International
SAE International is a global association committed to being the ultimate knowledge source for the engineering profession. By uniting over 127,000 engineers and technical experts, we drive knowledge and expertise across a broad spectrum of industries. We act on two priorities: encouraging a lifetime of learning for mobility engineering professionals and setting the standards for industry engineering. We strive for a better world through the work of our philanthropic SAE Foundation, including programs like A World in Motion® and the Collegiate Design Series™. For more information: http://www.sae.org.