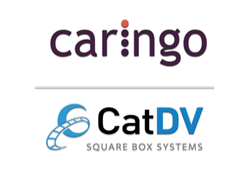 Caringo's certification with CatDV is part of our continued effort to work with best-of-breed solutions to simplify workflows and underlying infrastructure
AUSTIN, Texas (PRWEB) April 10, 2018
Caringo, Inc. today announced a technology partnership with Square Box Systems, certifying Caringo Swarm with CatDV media asset management (MAM) suite. The combined solution from Caringo and Square Box Systems enables M&E creators and distributors to simplify media workflows with the CatDV system while leveraging Caringo Swarm, a hassle-free object storage solution with limitless scale that provides immediate access to media.
With CatDV, teams that create or manage a large volume of digital media can organize, communicate and collaborate effectively. CatDV's simple, yet powerful, tools support some of the world's most sophisticated media workflows and provide them with flexibility to define how they manage their creation process.
"Caringo's certification with CatDV is part of our continued effort to work with best-of-breed solutions to simplify workflows and underlying infrastructure," said Tony Barbagallo, Caringo VP of Product. "Users of the combined solution now have a way to keep rapidly scaling media libraries secure and accessible in a way that can continue to evolve with content producer and viewer consumption patterns."
Caringo solves the issues associated with storing and protecting rapidly growing digital assets while keeping them online and accessible. Caringo Swarm brings organizations many of the benefits of the cloud right in their own data center, including easy-to-manage limitless scale; instant access over HTTP, S3 and NFS for traditional in-network access; and direct-to-consumer streaming. All with built-in data protection and an architecture that protects from hacks and ransomware.
"With the latest version of CatDV, we focused on accelerating collaborative media asset management and empowering enterprises to repurpose and monetize millions of assets with ease and efficiency," said David Clack, CEO at Square Box Systems. "A critical component is certifying interoperability with proven storage solutions like Caringo Swarm, giving our customers the ability to leverage the functionality and reliability Caringo has refined over 9 versions."
Caringo is currently at the NAB Show in Las Vegas exhibiting in booth SL11807 and Square Box Systems is in booth SL5421. The NAB Show is the ultimate event for the media, entertainment and technology industry, showcasing ground-breaking innovation and powerful solutions for professionals looking to create, manage, deliver and monetize content on any platform.
For more information, visit http://www.Caringo.com.
Follow Caringo
LinkedIn: https://www.linkedin.com/company/caringo-inc-
Twitter: https://twitter.com/CaringoStorage
About Caringo
Caringo was founded in 2005 to change the economics of storage by designing software from the ground up to solve the issues associated with relentless data growth. Caringo's flagship product, Swarm, decouples data from applications and hardware providing a foundation for continued data access and analysis that continuously evolves while guaranteeing data integrity. Today, Caringo software-defined object storage solutions are used to preserve and provide access to rapidly scaling data sets across many industries by organizations such as NEP, iQ Media, Argonne National Labs, Texas Tech University, Department of Defense, the Brazilian Federal Court System, City of Austin, British Telecom and hundreds more worldwide.
About Square Box Systems
CatDV is the masthead product of Square Box Systems Ltd., an innovative software company specializing in the development of multimedia tools. CatDV is a leading digital asset management system designed to handle a wide range of file types, with enhanced support for video content, media analysis tools and automatic scene detection to extract metadata. It also supports the import and export of edit decision lists as well as other video-oriented file.