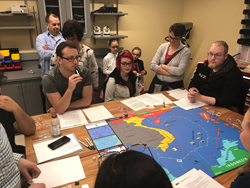 Providing our student body with direct access to state-of-the-art university resources as early as kindergarten is just another advantage of the Reach Cyber approach to education
HARRISBURG, Pa. (PRWEB) April 13, 2018
Today, Harrisburg University of Science and Technology and Reach Cyber Charter School, a statewide STEM focused online public school, announced a partnership to provide STEM related university activities, programs and course offerings to Reach Cyber students in grades K-12. It is through this partnership that students from both institutions will have the opportunity to interact with fellow peers, expand their STEM knowledge, and explore additional course offerings. The partnership is the first of its kind for both institutions.
"Reach Cyber is at the forefront of providing innovative learning opportunities to our students. Establishing this partnership with Harrisburg University means additional resources and even greater access to unique STEM education tools for our students who are hungry to learn," said Jane Swan, Principal of Reach Cyber Charter School. "Providing our student body with direct access to state-of-the-art university resources as early as kindergarten is just another advantage of the Reach Cyber approach to education."
"We are thrilled to partner with Reach Cyber Charter School in this exciting chapter for our university," said Eric D. Darr, Ph.D., President of Harrisburg University. "With so much growth in recent years, Harrisburg University is certainly a hub of science and technology innovation, and we are excited to open our doors and invite the next generation of talent to join us."
Reach Cyber students in grades K-12 will have the option to participate in joint academic offerings with Harrisburg University students, including STEM curricula, activities, camps and more.
Eligible Reach Cyber high school students will have the opportunity to participate in advanced studies and earn college credits by enrolling in courses offered by Harrisburg University. The school partnership will also include an Early College Program, offered to Reach Cyber students who wish to attend college on a full-time basis prior to receiving a high school diploma.
With the assistance of Harrisburg University students, younger students at Reach Cyber can spend their summer months participating in Exploration Camps. The STEM-themed camps, including esports and GIS mapping using drones, will be held on the Harrisburg University campus and at other locations throughout the state. The Harrisburg and Philadelphia campuses will also host Science Nights to engage Reach Cyber students, parents and staff in the vast world of STEM.
The partnership also includes the installation of an Integrated Agriculture (Intag) Aquaponics System, which will be housed on the university's Harrisburg campus. Students and staff at both institutions will have access to the aquaponics lab for academic lessons, projects, and field trips, and will also have access to college courses while in high school, trainings, and curriculum related to the system.
The Intag Aquaponics System will be connected to a WeatherSTEM system, which will track and aggregate data within the lab ecosystem via greenhouse, agriculture and other sensors. With access to this data, students and staff at both schools will be able to use real-time information to inform their research, class curriculum, and beyond.
The aquaponics lab's use of WeatherSTEM builds upon an existing tie with Reach Cyber, as the virtual school's headquarters on East Park Drive in Harrisburg is already home to a WeatherSTEM weather station. Installed last year, the school's station measures and records weather conditions, including wind speed, rain fall, temperature, humidity and barometric pressure, and the data is routinely used within science courses and clubs.
Benefits of this partnership will also extend to Reach Cyber staff, who will receive access to higher education and professional development opportunities through Harrisburg University, to include undergraduate and graduate degree programs.
Reach Cyber Charter School is now enrolling students in grades K-12 statewide for the upcoming 2018-19 school year. For more information about Reach Cyber or to begin the enrollment process, visit http://www.ReachCyberCharter.com.
About Reach Cyber Charter School
Reach Cyber Charter School is Pennsylvania's newest statewide, tuition-free, online public charter school for students in grades K-11. Reach Cyber, a Pennsylvania Connections Academy, provides students with the flexibility to learn from anywhere there is an Internet connection and with an innovative online school curriculum that meets rigorous state education standards. The combination of certified Pennsylvania-based teachers, an award-winning curriculum, engaging electives, technology tools, and social experiences provides a supportive online learning opportunity for students who want an individualized approach to education. Reach Cyber incorporates 21st century learning and STEM-enrichment opportunities, as well as offers flexible pacing options that allow all students to choose attendance based on a traditional calendar option, year-round option, or for high school students, an accelerated schedule. For more information, call 800-382-6010 or visit http://www.ReachCyberCharter.com.
About Harrisburg University of Science and Technology
Accredited by the Middle States Commission on Higher Education, Harrisburg University is a private non-profit university offering bachelor and graduate degree programs in science, technology, and math fields. For more information on the University's affordable demand-driven undergraduate and graduate programs, call 717-901-5146 or email, Connect@HarrisburgU.edu.