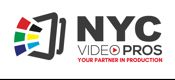 NEW YORK (PRWEB) April 11, 2018
The idea was to initially help organizations use the Podcasting medium to tell their stories. In the years that followed, the technology evolved and the focus shifted to helping marketers strategically tell stories with creative video content. Now, thanks to hard work, dedication, an eye on new technology, and producing high-quality work, New York-based NYC Video Pros is celebrating 12 years in business.
According to the Small Business Association, more than half of all businesses fail in the first year of operation and 70 percent fail within the first five years, so NYC Video Pros is especially proud of this milestone; "It has been an exciting 12 years that have taken us around the country helping our clients identify and produce audio and video content," said Jason Cohen, Executive Producer, before adding, "We see ourselves as an extension of our client's organizations - our focus is singular - helping our clients to strategically and efficiently leverage video in whatever capacity fits their needs."
Cohen went on to explain that from the initial goal of helping clients leverage audio podcasts in 2006, NYC Video Pros has evolved into a turnkey partner in media production, working across a range of industries and sectors, including but not limited to finance, consumer goods, defense, legal, technology and education.
"As for areas of growth, we are excited to build on our experiences and expand our offerings to help clients share their events with global audiences with our turnkey corporate theatre solutions and we're also looking at creative opportunities to develop content using new AR/VR tools," Cohen stressed, before noting that to highlight the company's work and growth over the past 12 years, NYC Video Pros has released a new video reel.
The newly released video features various projects and showcases the range of turnkey strategic corporate video production solutions that NYC Video Pros' clients have come to rely on the firm to provide.
From turnkey corporate video production solutions, to corporate theatre, event video production, training video production, NYC Video Pros services cover everything from concept through development. Additionally, the firm helps organizations develop documentary and brand films as well as live stream summits and global meetings with clients from every corner of the globe.
As for what makes NYC Video Pros different from everyone else in the industry, the company spokesperson pointed to the fact that it empowers customers with not only top-of-the-line work, but a reliable and experienced team that can seamlessly integrate with any organization and do so without budgetary surprises with flat-rate services.
"I have had the pleasure of working with Jason and NYC Video Pros/CityCast Media and recommend his services highly," Sherman said. "Jason is great to work with. He provides valuable knowledge and expertise, a lot of hand holding, and a superior end product. Jason also looks beyond the project at hand by setting up and creating opportunities for the future. I have so appreciated Jason's insight, good humor, and guidance throughout each project we have worked on together."
To learn more, call (212) 931-4866 and visit nycvideopros.com/solutions and nycvideopros.com/about-nyc-video-pros
About NYC Video Pros
We are a leading video production company in New York City. Video production runs in our blood. It's in our DNA.
We have vast experiences from shooting NYC Video Productions on-site to working in-studio to help organizations of all kinds and sizes produce high quality video content.
Our experienced team is dedicated to producing corporate video productions with the utmost in professionalism, and a keen eye on the bottom line to ensure that our solutions are affordable and can be scaled to meet the needs of the smallest projects, to the largest productions.
Our approach is simple; you talk, we listen; our corporate video production solutions are client-driven, and personalized based on the specific needs of your project.
Contact Details:
NYC Video Pros
41 Madison Avenue
New York, NY 10010
Phone: (212) 931-4866
Source: NYC Video Pros