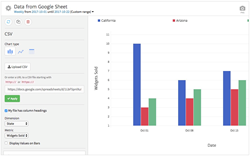 Data from any source can now be imported into Megalytic reports and used for charts as well as tables.
NEW YORK (PRWEB) April 16, 2018
Megalytic, the leading reporting tool for Digital Marketers and Agencies, announced today a full-featured integration with CSV data files and Google Sheets.
Data from any source can now be integrated into a Megalytic report by first exporting that data to a CSV file or Google Sheet. This capability enables marketers to create reports that pull data from all their analytics and advertising platforms.
According to CEO Mark Hansen, this new capability brings incredible flexibility to the Megalytic reporting tool. Hansen said, "Suppose you want to include data from a source that Megalytic doesn't support yet - like ConstantContact. Now, you can simply export your ConstantContact reports to CSV files, upload to Megalytic, and use that data to create charts and tables in any of your Megalytic reports or dashboards."
In addition to importing data, you can link to editable Google Sheets. When data in the source spreadsheet is updated, the changes automatically update the Megalytic report where the data is being used.
It is very easy to create charts from CSV files or Google Sheets data. As shown in this video, you use the same editor tools that are found in all Megalytic widgets.