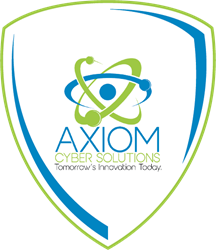 "Threat Intelligence is critical to staying ahead of the hackers. The nature of this intelligence is dynamic and must be updated constantly." - Brent Watkins, FBI (Retired)
LAS VEGAS (PRWEB) April 13, 2018
Axiom Cyber Solutions today announced the worldwide release of the Axiom Shield Threat Intelligence Plugin to users of the MikroTik brand of routers and firewalls. This threat intelligence plugin allows Axiom to continuously update MikroTik devices running the RouterOS operating system with over 350,000 threat data points per day based on over 100 open and closed sources.
Axiom's team of data scientists use big data analytics and machine learning to take disparate points of identifiable data, such as IP addresses, routing information, packet contents, headers, and destinations and then match that to data from curated threat sources to not only identify cyber threats quickly but also block them.
For more than two years, Axiom has been using curated threat intelligence to protect their customers from cyber attacks such as ransomware, denial of service attacks, malware, advanced persistent threats, the Dark Web, email spam, phishing schemes, and more. With today's launch, for the first time, companies and consumers with MikroTik based devices will be able to connect to Axiom's Polymorphic Threat Defense System and receive constant updates for their systems.
"Internet service providers around the world rely on the speed and efficiency of the MikroTik router family to route the world's internet traffic," said Troy Wilkinson, CEO of Axiom Cyber Solutions. "If you've been on the internet today, your traffic has probably touched millions of MikroTik routers on its way. We've released this plugin to secure the internet from the international backbone, down to every user's computer. We are able to accomplish this by applying up-to-the minute threat intelligence to the MikroTik community which includes some of the largest internet service providers around the world."
Axiom has leveraged the MikroTik chipset family from inception of the company in 2015 because of the ability of MikroTik to move packets of internet traffic faster than competitors at a fraction of the cost. MikroTik chipsets are what allow Axiom to provide 80GB cyber defense in a single appliance.
Brent Watkins, FBI Special Agent (Retired) states "Threat Intelligence is critical to staying ahead of the hackers. The nature of this intelligence is dynamic and must be updated constantly. Small and medium businesses don't typically have access to this data because it is cost prohibitive. Axiom has solved this problem by providing regularly updated, actionable threat intelligence at an affordable price point."
Threat intelligence alone is only one piece of the puzzle. To be effective, the threat intelligence must be actionable and trigger an event of protection. Axiom uses this threat intelligence along with strict data access rules and information control algorithms to take actions such as dropping the packets, tar-pitting them by lowering the time to live, denying access to the attacker's command and control servers, and many other custom actions based on the type of threat. "In theory, this could turn every MikroTik device into an Intrusion Prevention System (IPS) with automated updates and real-time blocking of threats," Wilkinson added.
Jonathan Davies, the President of the Southern Nevada Cybersecurity Alliance stated "If 2017 was the year of ransomware, then 2018 may be considered the year of crypto-mining attacks. As financially motivated actors shift their attack methodology to a more lucrative approach, forward thinking security teams are now beginning to understand the criticality of threat intelligence to their security program and embrace the increased resilience it can offer at the tactical, operational and strategic level. By integrating operational threat intelligence into the security stack, it's possible to get the jump on attacks before they happen and reduce detection and response times when they do. Integrated threat intelligence provides invaluable context that can identify links between seemingly disparate security alerts, that are actually part of a coordinated attack."
Axiom's threat intelligence plugin is a subscription offering starting at $50 per month. Axiom has designed it to be fully automated, easy to install, and effective at detecting and stopping today's latest cyber threats. For more information, visit shield.axiomcyber.com
About Axiom Cyber Solutions – Axiom Cyber Solutions is a U.S. based cybersecurity company responsible for some of the most unique and most capable security solutions on the market. Axiom provides everything that a company needs to get protected including hardware, software, monitoring 24 hours a day, and most importantly updating over 350,000 threat data points per day to guard against a data breach. Axiom builds upon MikroTik RouterOS to create one of the most advanced cybersecurity defense platforms available in the market. Axiom's solutions are based on a low monthly subscription to be affordable for all businesses, regardless of size. To find out more about Axiom Cyber Solutions, please visit https://www.axiomcyber.com/
# # #
Media Contact
Shannon Wilkinson
Marketing(at)axiomcyber.com
800-519-5070