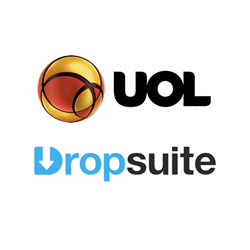 Dropsuite expands into South America with UOL
SINGAPORE (PRWEB) April 16, 2018
Dropsuite Limited (ASX: DSE), a leading cloud data backup platform for small and medium businesses (SMBs) announced that UOL, the largest online content and digital services company in Brazil, will differentiate its business by providing a fully automated email backup solution to UOL email customers in South America. Email backup will be rolled out in stages to the collective email systems that UOL supports such as UOL Mail, BOL Mail, Office 365 and other email systems.
Email backup and quick recovery of data acts as a type of "insurance plan" to counter the high cost of business downtime that can result from the accidental deletion of files or other types of unexpected email loss.
For this partnership, Dropsuite and UOL created a custom interface that provides a seamless UOL-branded experience for their customers, localized into Portuguese. Dropsuite Email Backup is bundled into new UOL email purchases, providing instant, automated email backups in the cloud. This is accomplished through an API integration that utilizes OAUTH tokens. The result is that no end user set up or configuration is required. Email backups start automatically whenever a new email sign up is detected.
"UOL evaluated multiple vendors before selecting Dropsuite as the best email backup solution provider for our customers," said Marcelo Varon, Director of Digital Products at UOL. "With Dropsuite, we are able to quickly integrate and deploy a simple, secure and affordable way to protect emails against accidental deletion of files."
"Safeguarding business data and preventing downtime is what Dropsuite is all about," said Ridley Ruth, Dropsuite's COO. "We are thrilled to partner with UOL to bring email backup protection to the Brazilian market."
Dropsuite follows a security assurance program that uses global privacy and data protection best practices to ensure all data is safe. For UOL, this means that all customer email content is stored in a local Brazilian cloud data center and will not move or be replicated outside of Brazil without UOL's prior consent. Additionally, all customer data is safeguarded with 256-bit encryption at rest and in transit.
For more information about UOL please visit http://www.uol.com.br/backup-de-email. For more information about Dropsuite Email Backup and Archiving, please visit https://dropsuite.com/products.
About UOL
UOL is the largest Brazilian online content and digital services company. Its audience covers more than 70% of the Brazilian internet audience and its homepage reaches more than 80 million of unique visitors every month. Pioneer company in the Brazilian Internet environment, with more than 20 years of experience, UOL offers more than 1,000 channels of journalism, information, entertainment, services. UOL also offers free apps for smartphones and tablets, such as Placar UOL, UOL Cotações, UOL Notícias, among others, and together have already reached 15 million downloads. In addition to the news content, UOL also offers the most complete platform of products and services for the Brazilian internet users, including: online advertising and media solutions, mobile, complete solution for online and mobile payments (PagSeguro), hosting services (UOL HOST), IT solution for large companies (UOL DIVEO), cloud computing platform, online education (UOL EdTech), security solutions (antivirus, firewall), Mobile products (Wi-Fi) and entertainment (Games, Clube UOL), among others. https://www.uol.com.br
About Dropsuite
Dropsuite (DSE:ASX) is a global cloud software platform enabling SMBs in over 100 countries to easily backup, recover and protect their important business information. Dropsuite's network of preferred reseller partners has a combined customer reach of millions of small and medium-sized businesses worldwide. Dropsuite's cloud-to-cloud products include email backup, email archiving and website backup. Dropsuite has partnered with some of the biggest names in the web hosting and IT service provider markets such as GoDaddy, Ingram Micro and Crazy Domains to safeguard businesses from the threat of unexpected data loss. Dropsuite was launched in 2012 and is headquartered in Singapore with a sales presence in the US, Europe, Japan, and Australia. https://dropsuite.com