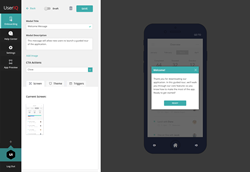 "Companies committed to customer success across their business need an omni-channel view of their users all in one place."
ATLANTA and BANGALORE, India (PRWEB) April 17, 2018
UserIQ, a company that helps B2B SaaS businesses improve end-user adoption and onboarding to accelerate time-to-value, today announced it has acquired Appunfold, a mobile engagement platform that offers user onboarding, self-help and analytics. Together, the companies offer a complete user adoption platform across all screens and devices.
Mobile devices are consumers' primary digital tool, according to a 2017 comScore report. The report details that around the world, more than 60 percent of time consumers spend online is on their mobile devices and 80 percent of that time, consumers are using smartphone and tablet apps.
"Our goal at UserIQ is to guide users to success in every moment, regardless of the device being used," said Aaron Aycock, founder and chief product officer of UserIQ. "As mobile adoption continues to increase, businesses have to evolve to stay relevant as well. In order to help our customers make their users successful, it's important for us to be where they are."
The acquisition will allow UserIQ customers to develop and analyze targeted mobile campaigns that deliver seamless onboarding across any screen or device, such as walkthroughs, tooltips, screen guides and help centers, delivering value to their users exactly when and where they need it.
With the addition of mobile engagement and analytics capabilities, UserIQ customers will be able to:

Analyze feature usage and adoption across multiple platforms to make rapid data-driven decisions
Engage users, promote new features, and gather user feedback with surveys, tooltips and guided tours on both web and mobile
Improve the end-to-end user experience and onboarding regardless of device with targeted, contextual in-app help and guidance
Create new campaigns and tag new features on both iOS and Android devices without the need for a developer
"Customer success is complicated when you're thinking about your users' path across multiple devices and ensuring they can achieve success wherever they are," said Rachel Orston, CEO of UserIQ. "That's why companies committed to customer success across their business need an omni-channel view of their users all in one place and why we're excited to bring that capability to our customers for the first time."
The new mobile offering will enter beta for a select group of UserIQ customers later this quarter.
"We share UserIQ's passion for driving user adoption, the foundation of product engagement and customer success, and delivering value to users early in their journey," said Satya Krishna Ganni, founder and CEO of Appunfold. "Appunfold is thrilled to join the team at UserIQ to bring best-in-class web and mobile offerings together into one seamless integrated experience."
Appunfold's Bangalore office will become UserIQ's first international office and development center. Terms of the deal were not disclosed.
About UserIQ
Headquartered in Atlanta, GA, UserIQ was founded in 2014 to help SaaS companies deliver what each of their users needs to be successful in every moment. As a result, you'll scale onboarding, improve feature adoption, accelerate time-to-value, and ultimately drive more revenue throughout the customer journey.
In 2017, G2 Crowd recognized UserIQ as the Customer Success solution with the Highest User Adoption and as a top product in Atlanta's B2B tech industry. For more information on UserIQ, visit useriq.com and follow us on Twitter @UserIQ.