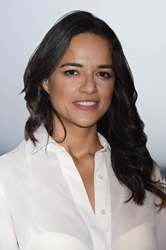 The Artemis Women In Action Film Festival is thrilled to honor Michelle Rodriguez, Ming-Na Wen, Rosemary Rodriguez, Kachina Dechert, and Dana DeLorenzo.
BEVERLY HILLS, Calif. (PRWEB) April 18, 2018
Artemis Women In Action Film Festival (AWIAFF) is proud to honor Michelle Rodriguez with the Artemis Action Revolutionary Award for not only refusing roles where the characters are the 'average' female role, the characters she does play are inspirational and indelible. She is a co-star in three of the most popular action franchises: 'The Fast and the Furious,' 'Avatar,' and 'Resident: Evil.' She has arguably been described as the most iconic actress in the action genre in Hollywood." Her first starring role was starring as a boxer in "Girlfight" from which she gained critical acclaim. Michelle Rodriguez then went on to "The Fast and the Furious" franchise. She has become synonymous with action films and has starred in some of the most successful movies of the last 17 years.
Ming-Na Wen will be recognized with the Artemis Action Paladin Award for consistently portraying characters that use their skills to protect and help others. Ming Na Wen plays two of the toughest heroines in film and TV. She created the indelible voice portrait of the warrior princess "Mulan," and she is currently the enforcer of enforcers in Marvel's "Agent of S.H.I.E.L.D." Both characters embody warrior women. Early in her career, Ms. Wen's work has thrilled and captured audiences around the world for two decades with a vast array of performances ranging from drama, to comedy, to action.
"I love portraying strong female characters like Agent May, Mulan and Chun-Li. They are not only fun to play as an actor, but they inspire and entertain both men and women. More importantly, these roles help women and girls to find their own inner strength. I also am honored to represent minorities and prove that anyone can be a badass at any age!"—Ming Na Wen
Rosemary Rodriguez will be honored with the Artemis Action Champion Award for a career of directing films and TV, where the women are as strong and capable as the men. Rodriguez wrote, directed and starred in her first film, the award-winning "Acts of Worship." She's enjoyed a long television career starting with "Third Watch." Since then she has directed on "Law & Order: SVU"; "Criminal Minds," "Castle," "Blue Bloods," "The Good Wife," and "Jessica Jones."
"There is nothing more satisfying than collaborating with strong, talented, intelligent women in roles that mirror their own human superpowers, rather than sell their talents short. It's exhilarating to discover those moments while directing that are bigger than any of us and inspire us to keep going!"—Rosemary Rodriguez
Dana DeLorenzo will be recognized with the Artemis Action Next Wave Award. DeLorenzo took the action world by storm with her role in "Ash vs. Evil Dead," using her one-of-a-kind comic timing in her recurring role as an NBC executive on "The Late Show" with Craig Ferguson. As bullets are flying and bones are cracking, DeLorenzo serves her unique brand of sarcasm that not only makes us think, but makes us laugh.
​"​Words cannot express how much this honor means to me. Playing Kelly Maxwell taught me that it's okay to be afraid. Strength means finding the courage to do something in spite of fear. Consider the risks — but if the reward excites your spirit, go for it! When you do that, you've already won.​"—Dana DeLorenzo
The Artemis Stunt Powerhouse Award will be presented to Kechina Dechert. This skilled British-American-Canadian stuntwoman has appeared in "Mission Impossible," "The Mummy," "Inferno," "American Hustle," "John Wick," and "The Amazing Spiderman 2." She has doubled for actors including Jessica Biel, Annette Bening, Mila Kunis, Uma Thurman, Megan Fox, and Selma Hayek. Ms. Dechert's career continues to blossom as a stunt coordinator for the CBS action series "Caught" and the Netflix series "Frontier."
"It is such an honor to be receiving the stunt powerhouse award this year amongst all of these incredible women! We inspire one another, create with one another and will continue to rock with one another."—Kachina Dechert
The Artemis Women In Action Film Festival is delighted to have Citi® join as an official sponsor, and announcing Habibi Bath & Body sponsor, gifting their beauty products to Artemis honorees; Paul Feig returns to present the festival for the second year in a row. Official sponsor AGENDA (including additional KL Publishing Group online magazines Bella Composers and The Indie Hotspot) are proud to feature exclusive interviews from Artemis filmmakers, actors, and female composers. Also featured in the May 2018 Issue #5 of AGENDA magazine are Artemis Founder Melanie Wise and Artemis honoree Ming-Na Wen. Go to agendamag.com for publishing dates and links. For information about the Artemis Women in Action Film Festival's events, schedule, and to purchase tickets, please visit http://www.artemisfilmfestival.com.
About Paul Feig: As a multi-talented filmmaker, writer, producer, and author Paul Feig films include "Ghostbusters," "Bridesmaids," "The Heat," and "Spy." Feig also created the critically acclaimed series "Other Space" and the beloved "Freaks and Geeks." Up next, he is directing his first thriller "A Simple Favor," opening Fall 2018.
About Citi:
Citi offers Citi® credit and debit card members access to tickets to more than 12,000 events annually through Citi® Private Pass®, the bank's entertainment access program. Citi Private Pass provides presale tickets, VIP experiences, and other exclusive access to some of the world's biggest artists and events ranging from music, sports, dining, theater, comedy, festivals, and other live entertainment. For more information, please visit citiprivatepass.com or @citiprivatepass on Twitter.
About Habibi Bath & Body:
Habibi Bath & Body is a collection of organic bath & body products for the most discerning senses, bringing together smell and touch to create a sensory experience beyond basic body care. Every ingredient serves a purpose. Like whole foods, these products have been created with pure, unfiltered formulations without fillers, no added chemicals or preservatives. Extra care is taken to inspect the origins of each ingredient. Vegan and non-GMO, Habibi presents you with their potent blends to soothe and nourish the body. "Habibi" stands for living your best life, inside and out. Visit http://www.habibibody.com.