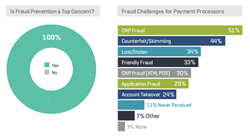 BOISE, Idaho (PRWEB) April 17, 2018
Kount, a leading innovator of solutions for fraud and risk management, today announced the release of the "State of Payment Processing & Fraud: 2018" inaugural report at the 2018 ETA TRANSACT Conference. Developed in partnership with The Fraud Practice, the report surveyed approximately 15 percent of the worldwide payment processor community to gain a clear understanding of their strategic priorities over the next year, as well as the value processors place on using qualitative and quantitative analysis within their organizations
"This timely study provides insight into where the processor market is heading and the value-added services that are being adopted to attract, acquire and retain merchant clients," said Justin McDonald, Senior Risk Management Consultant at The Fraud Practice. "73 percent of the processors surveyed provide fraud prevention tools or techniques as value-added services and nearly three-quarters of them will further increase support for risk management services in 2018. As the market continues to evolve, merchants are looking to payment processors that can adapt, enabling them to accept more orders on new platforms and gain competitive advantage."
This increased awareness on stopping fraud is reflected in the payment processors' shift to offer value-added services that mitigate chargebacks, eliminate false positives, and increase sales. While surveying more than 150 payment processors, including staff from acquiring banks, issuing banks, payment processors, payment facilitators (PayFacs), and payment gateways, the report uncovered a number of significant findings, including:
Top Concerns Among Merchant Clients
The majority of payment processors indicate that their merchant clients care most about chargeback rates (73%), followed by authorization decline (60%), order approval (47%), and sales conversion (47%) rates.

Chargeback rates can result from many issues but are very often related to fraud, and while 73 percent of payment processors, acquirers, gateways, and PayFacs say this is critical to track and is often requested by merchants, just 20 percent say the same for false positive or sales insult rates, which are an often-overlooked aspect of fraud and risk management.
Cross-Border Payment Support
More than three-quarters (78%) of payment organizations that support cross-border payments enable merchants from other regions to do business in North America while 41 percent support international payment transactions across Western Europe.

More than one-third of participants facilitate payments from consumers in South (39%) and Central America (33%), Asia (37%), and Eastern Europe (37%).
New Offerings
Payment Processors continue to increase support and add new offerings:

9 in 10 organizations that support mobile and alternative payment types are increasing support for these this year. Support for new mobile and alternative payment types followed by offering fraud prevention services are the two types of value-added services payment industry organizations consider most important for attracting new merchant clients.
More than 8 in 10 payment processors surveyed will increase support for business reporting and analytics.
75 percent will increase support for integrated rules or fraud scoring, and nearly 70 percent will increase support for fraud technology tools.
Nearly 60 percent of payment processors offer or support velocity checks while 45 percent offer or support rules engines, fraud scoring and IP geolocation.
"It was important that we conduct this research to better understand the needs of processors as they continue to evolve for their merchant customers," said Don Bush, Vice President of Marketing at Kount. "Processors are looking for value-added services that allow continual growth and a higher quality of service for their merchants. Analytics and fraud prevention are two areas that have been recognized, universally, as important services desired by a merchant base that is growing more sophisticated in their efforts to maximize sales and minimize risk, fraud, and losses. This inaugural report shares the pulse of the industry and illustrates the direction it's heading."
The report, which can be downloaded here, coincides with Kount's participation at ETA Transact (Booth #1117).
About Kount
Kount helps businesses boost sales by reducing fraud. Our all-in-one, SaaS platform simplifies fraud detection by applying patented machine learning through Kount's proprietary platform offering maximum protection for some of the world's best-known brands. Companies using Kount accept more orders, from more people, in more places, than ever before.