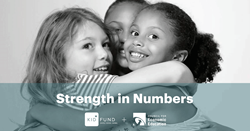 As the number of parents calling financial aid extremely necessary jumps, Kidfund and the Council for Economic Education (CEE) are announcing a new partnership that will empower families to save in a new way, add money to their accounts, and expand financial literacy across the country.
NEW YORK (PRWEB) April 19, 2018
There's been plenty of talk about the burden of college costs, but far too little action. The latest figures show*:

99% of families now say financial aid is necessary; 69% of parents call it "extremely" necessary, up from 63% in 2017. (1)
98% of parents say saving for their child's future is important, but only 57% managed to save anything in the previous year. (2)
Overall, parents plan to cover 70% of the total cost of college, but they're on track to cover only 29% by the time their child starts freshman year. (2)
Even a little savings can go a long way. Children from low- and moderate-income families with savings of less than $500 are still four times more likely to graduate from college; with $500 or more, they're five times more likely.
In honor of April being Financial Literacy Month -- established by Congress and celebrated at the state level in some cases as well -- Kidfund and the Council for Economic Education (CEE) are announcing a new partnership that will empower families to save in a new way, add money to their accounts, and expand financial literacy across the country.
The free Kidfund app allows you to open a private account on your phone in seconds, tap to put money into it, gain interest, and receive financial rewards for encouraging other signups. For special occasions, Kidfund users can click to make donations from friends and family easy. "What an awesome idea for birthdays and holidays," says Babble's Karen Johnson. "Heaven knows my kids do not need more toys. What they do need is a college education someday."
"While virtually all parents feel the need to save for their kids and teach them healthy financial habits, the reality is that for most people it's hard," says Kidfund CEO Laura Bailyn. "Kidfund helps parents overcome these barriers by making saving easier."
Through the new partnership, CEE is encouraging families to join Kidfund. The organization will receive $10 for every new family that starts to save, helping fuel CEE's mission to teach every child about personal finance and economics.
"We are excited about our partnership with Kidfund. Kids today are digitally savvy, and Kidfund's app is a great way to open the door to possibilities by watching the savings grow as a family," says Nan J. Morrison, President and CEO, CEE.
Bailyn adds, "We are honored to be joining forces with CEE, the most respected financial literacy institution in the nation, to combine quality financial education with the power of money in the bank."
To learn more, visit: https://www.kidfund.us/cee-partnership/
Kidfund CEO Laura Bailyn is available for quotes and interviews. Please contact max@kidfund.us, or call 917-969-4124.
About Kidfund
Kidfund is a socially-powered savings app that helps parents save more money for their kids – and teach good savings habits. Families can also choose to donate a percentage of incoming gifts to kids in need. The company partners with USALLIANCE Financial to offer favorable rates, and with the 1:1 Fund to distribute charitable donations. Kidfund believes that empowering kids with financial skills and building assets for them is the key to creating economic opportunity, mobility and security for the next generation. It is a female-founded startup based in New York City.
About the Council for Economic Education
The Council for Economic Education (CEE) is the leading U.S. nonprofit focusing on the economic and financial education of students from kindergarten through high school. CEE carries out its mission by educating educators: providing curriculum tools, pedagogical support, and a community of peers that instruct, inspire, and guide. All resources and programs are developed by educators, and delivered by CEE's national network of affiliates, with the goal of reaching every child. Each year CEE's programs reach more than 55,000 K-12 teachers and over 5 million students. EconEdLink, CEE's free, online gateway for lessons and resources, attracts more than 1 million unique visitors annually.
*Data from Princeton Review, Sallie Mae, Fidelity, Washington Univ. in St. Louis. Research available upon request.
1. https://bit.ly/2qJUKnz
2. https://bit.ly/2cKU5wu
http://www.facebook.com/Kidfund/
http://www.instagram.com/kidfund/
http://www.linkedin.com/company/kidfund