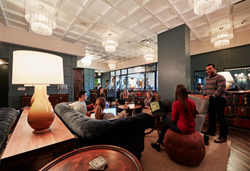 "I can't imagine doing it a different way. Brivo has been a true partner in our growth." Kyle Coolbroth, CEO of Fueled Collective
BETHESDA, Md. (PRWEB) May 08, 2018
Brivo, the global leader in cloud-based physical security solutions, and Fueled Collective, a franchise coworking operator, announced today an integration between Brivo's flagship Onair cloud-based access control platform and Fueled Collective's Octane custom management system.
Fueled Collective is a unique shared workplace and social membership club. As the intersection of social and business activities, Fueled Collective spaces convert into a social gathering equipped with food service and a full bar, starting at 5 pm Monday through Saturday. Fueled Collective differentiates itself by creating a spirited environment where social interaction sparks new ideas and innovation.
Fueled Collective chose Brivo Onair as its unified security platform to address challenges with mechanical keys and staff turnover. They selected Brivo Onair for its flexibility and advanced API, which gives them the ability to synchronize identities, permissions, and event logs with Octane. "We are extremely excited to be supporting the Fueled Collective team as they form the workplace of the future," said Steve Van Till, President & CEO of Brivo.
Brivo Onair links to Fueled Collective's membership cards, providing full access including:
> Check-in
> Reservations
> Point of sale
> Unlimited access to all locations for all members + three guests
The integrated security system gives community managers valuable data and insight into their members to create a personalized experience while onsite at a Fueled Collective location. A franchisee can also determine the level of engagement at a particular location based on access and usage. Most important, the Brivo integration allows member access across all locations using a single card. This ease of use helps the Fueled brand stand out.
Fueled Collective believes their access platform is a key element in the future of coworking spaces. "I can't imagine doing it a different way," said Kyle Coolbroth, CEO of Fueled Collective. "Brivo has been a true partner in our growth."
As one of the first multi-location franchise coworking operators, Fueled Collective is a pioneer in the space. Through its franchising business model, the company plans to scale from seven locations to 250 locations over the next two to three years. A key element of the franchise model is Octane, Fueled Collective's custom application which provides access management for its members and guests, among many other features. Octane is now integrated with the Brivo Onair unified security platform, and is required for all franchisees. The consistent deployment of Octane and Brivo allows for seamless growth and a better user experience.
About Brivo
Brivo is a SaaS company offering a complete suite of physical security products and services for commercial buildings, including access control, video surveillance, and mobile credentials. Currently serving over ten million users, Brivo provides a scalable and centralized security management system to its customers. Brivo is unique in offering both access control and video management in a single cloud-based platform that is available via web browser or mobile applications for anywhere, anytime management and control. Headquartered in Bethesda, MD, Brivo was founded in 1999.