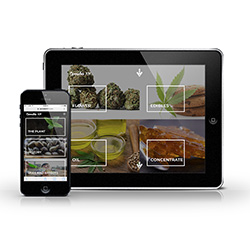 We hope to increase cannabis knowledge and understanding through collaboration, perspectives and participation.
BEND, Ore. (PRWEB) April 18, 2018
This Friday, millions of people will be celebrating the cannabis plant, yet many don't have a basic understanding of this controversial method of recreation and medication. There's a new website dedicated to educating everyone. A condensed visual guide that you can browse anonymously, from your computer or your phone, even while you're in line at the dispensary - Cannabis101.com.
Learn about the plant: Its history, its effects, how it works and different ways to consume it with no account setup, login or download needed. For instance: Did you know the specific smell of a pot strain predicts the kind of effects it will have? And just like caffeine is the coffee plant's natural bug repellant, THC is the cannabis plant's natural bug repellant.
This new resource is made available to consumers, the industry and even the high-curious by Cannabis United. A digitally focused group dedicated to helping people learn, find and enjoy cannabis responsibly while offering ways to participate in the green revolution. Cannabis United worked closely with those in the cannabis industry to develop and evolve Cannabis101.com and has more digital resources currently in development.
On this official pot holiday, learn a little more about this misunderstood weed. Whether you're interested from a health perspective, learning what new options are available, or you want to be an informed parent. This new resource will help you make better choices or be the one with all the chronic answers.
Educate before you medicate at Cannabis101.com.
Cannabis United (CU) is a digital media network of resources, tools, properties and publications dedicated to informing and educating today's voting citizen and cannabis consumer. "We hope to increase cannabis knowledge and understanding through collaboration, perspectives and participation." said the organization's founder and Director, Jen Gyllenskog. Gyllenskog is crossing over into the cannabis field after a twenty-year career honing her skills in digital strategy, branding and marketing with an emphasis in information architecture, user experience and encouraging behaviors or outcomes. CU hopes to reach across the aisle to change hearts, minds and votes in green states and where the activity is still criminalized.
Cannabis United is building relationships within the cannabis industry to include a spectrum of viewpoints and opinions from those who have dedicated their professional career to this burgeoning market. To learn more about Cannabis United, our other sites in development, and all the ways the industry can participate, go to CannabisUnited.com.
Supporting graphics are available for download at: http://www.CannabisUnited.com/media-assets