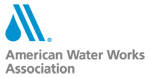 "There is encouraging momentum on legislation that protects drinking water and encourages water infrastructure investment," said AWWA CEO David LaFrance. "AWWA delegates play a critical role in assuring Congress understands the issues and supports safe water and strong water systems."
WASHINGTON (PRWEB) April 18, 2018
A record 160 water utility leaders from 48 states converged on Capitol Hill Wednesday to advocate for water infrastructure investment and source water protection during the American Water Works Association's Water Matters! Fly-In.
In more than 400 meetings over the next two days, AWWA delegates will express support for measures in the U.S. Farm Bill that emphasize collaboration between farmers and water systems to protect drinking water sources. They will also urge robust funding for the Water Infrastructure Finance and Innovation Act (WIFIA) and state revolving loan funds that provide loans for water utilities seeking to renew aging infrastructure.
"For 16 years, AWWA Fly-In delegates have brought a consistent, credible voice on water issues to our elected leaders in Washington," said AWWA CEO David LaFrance. "There is encouraging momentum on legislation that protects drinking water and encourages water infrastructure investment. AWWA delegates play a critical role in assuring Congress understands the issues and supports safe water and strong water systems."
On the issue of drinking water protection, AWWA delegates will support the newly introduced U.S. House Farm Bill, which would strengthen U.S. Department of Agriculture conservation programs that protect drinking water sources from nutrient runoff. The bill, the Agriculture and Nutrition Act of 2018, includes several key measures advanced by the AWWA over the past two years. The bill:

Emphasizes protection of drinking water sources throughout the conservation title.
Expands opportunities for the Natural Resources Conservation Service (NRCS) to work with water systems to prioritize activities in each state.
Increases benefits for farmers who employ practices that benefit downstream water quality.
Ensures at least 10 percent of conservation program funds is focused on the protection of drinking water.
AWWA created a whiteboard animation video to more clearly illustrate how the Farm Bill's conservation programs are key to protecting drinking water sources. It is available on AWWA's YouTube channel.
In the area of water infrastructure renewal, AWWA delegates will ask for support of the passage of H.R. 4492/S. 2329 to reauthorize and boost funding for WIFIA, which provides low-interest loans for large water infrastructure projects. Delegates will also support doubling appropriations for the drinking water state revolving loan fund program to $1.7 billion.
The Value of Water Campaign, of which AWWA is a founding member, today released a national poll showing that four of five voting Americans support the idea of increased investment in water infrastructure.
AWWA's 2012 study, Buried No Longer: Confronting America's Water Infrastructure Challenge, showed the United States will need to invest $1 trillion in the next 25 years to maintain and expand buried drinking water infrastructure. Wastewater needs are believed to be similar.
Established in 1881, the American Water Works Association is the largest nonprofit, scientific and educational association dedicated to managing and treating water, the world's most important resource. With approximately 51,000 members, AWWA provides solutions to improve public health, protect the environment, strengthen the economy and enhance our quality of life.