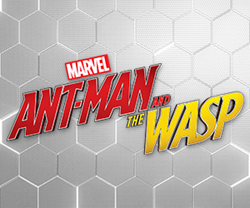 I loved the first Ant-Man! But I hated the ants…
CHICO, Calif. (PRWEB) April 20, 2018
Get ready to partner with Ant-Man, the Wasp, and DBH for new Marvel Ant-Man and the Wasp designs. DBH is eager to introduce select designs today, April 20th, 2018, on the first day Ant-Man merchandise is available to the DBH community for purchase.
Hank Pym has been working to upgrade the Wasp suit (and, yes, Ant-Man is feeling a little jealous about it) with blasters, wings, and awesome high-tech gadgets; while DBH has been working to upgrade their Marvel offerings with fun new Ant-Man and the Wasp styles. The new officially licensed designs include classic logo tees, Wasp designs, and styles with your favorite fun-sized hero, Ant-Man, as well. DBH loves adding new designs from popular brands, films, and artists and is especially excited about the opportunity to share the Marvel Universe with its community of artists.
DBH's Customer Service Manager, Lindsey Rasmussen, admits, "I loved the first Ant-Man! But I hated the ants…" Nevertheless – even with her fear of creepy-crawlies – Lindsey will be in the front row of the Ant-Man and the Wasp premiere. Join in on DBH's excitement for the film release on July 6th, 2018 with an exclusive Ant-Man shirt available for the first time today.
Get ready for another marvelous Marvel adventure with a Design By Humans Ant-Man and the Wasp design; no one can feel small if they're dressed in a cool DBH Ant-Man and the Wasp design.
About Marvel:
Marvel's cinematic universe – as we know it and love it – started with the first Iron Man film in 2008 and has been followed by a long line of blockbuster hit after blockbuster hit like Thor: Ragnarok, Black Panther, and the exciting Avengers: Infinity War premiere in April 2018. Beloved characters like Captain America, Hulk, Spider-Man, and the Guardians of the Galaxy continue to inspire comic-book fans across the globe with new adventures and world-saving feats portrayed by the popular Marvel film franchise.
About Ant-Man and the Wasp:
Scott Lang dons his Ant-Man suit again to join Hank Pym and his daughter, Hope Van Dyne, on a mission to uncover secrets and defeat the mysterious villain, Ghost. Ant-Man must learn to balance his role as a father with that of a superhero, while also trying out the new "Giant-Man" role, getting a new partner, the Wasp, and keeping audiences laughing. Get ready to watch Ant-Man in action, or escaping giant flying Pez, at the film premiere on July 6th, 2018.
About Design By Humans:
Design By Humans offers a platform for artists, gamers, and YouTubers to create and showcase their unique artwork as phone cases, wall prints, and fashionable tees, tanks, and more. With 10 years of experience, Design By Humans has woven a shared spirit that thrives on designing vibrant and meaningful art. To learn more about the vision, please visit: https://www.designbyhumans.com/.
DBH works to build an environment that respects collaboration, quality, integrity, and the entrepreneurial spirit. The DBH Collective is inspired by the comical as well as the abstract, the imagined and the concrete; and works to create innovative art that is an expression and a reflection of today's society.
We are gaming fiends, cat-enthusiasts, and pop culture fanatics. Most importantly, however, we are a passionate team of independent creators who buzz for the next buzz word, whistle as we work, and create designs that inspire the next generation of trendsetters from around the world.
To become a part of the Design By Humans community and submit designs today, we encourage you to visit: https://www.designbyhumans.com/become-an-artist/ and learn more!
Follow Design By Humans on Facebook at /DesignByHumans, on Instagram at DesignByHumans with #designbyhumans, and on Twitter @DesignByHumans.