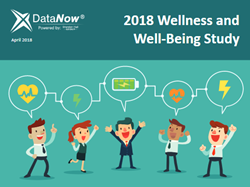 "Organizations clearly believe there is a benefit to offering wellness and well-being programs to their employees because 70% of organizations are offering them. But like everything else in human capital management, measurement is the key to understanding exactly what the benefits are," Brandon Hall
DELRAY BEACH, Fla. (PRWEB) April 20, 2018
Seven in 10 organizations offer wellness/well-being programs for their employees, according to Brandon Hall Group's 2018 Wellness and Well-Being Study, but less than 40% have more than half of their employees participating in the program.
The research raises the question of how organizations are benefiting from their wellness/well-being programs because 71% don't know the average per-employee cost reduction attributable to the wellness/well-being program; 82% don't know the average return on each dollar spent on wellness/well-being.
How organizations measure the effectiveness of their wellness/well-being programs differs rather significantly by size of organization. For example, the most frequently used measure of effectiveness for small organizations is improved employee retention rate (40% of respondents), while that answer ranked just 12th among large organizations (17% of respondents). Overall, increased employee engagement and reduction in absenteeism were the most frequently used measures of effectiveness.
"Organizations clearly believe there is a benefit to offering wellness and well-being programs to their employees because 70% of organizations are offering them. But like everything else in human capital management, measurement is the key to understanding exactly what the benefits are," Brandon Hall Group CEO Mike Cooke said. "The fact that the great majority of organizations say they don't know the average per-employee cost reduction attributable to the wellness/well-being program, or the average dollar return on each dollar spent, means organizations need to up their measurement game if they are going to prove to leadership that these programs are truly valuable and sustainable in the long-term."
Other findings of the study include:

Organizations are 79% more likely to use emails to communicate their wellness/well-being programs than any other method. Only 10% of organizations said they used push notifications on an app.
Organizations that offered dedicated wellness/well-being programs are, on average, 31% more likely than organizations without such offerings to see increases in employee engagement and retention, and customer satisfaction and retention.
The tools/technology most often used to support wellness/well-being programs are engagement tools (51% of organizations), self-service portals (50%), online assessments and profiles (41%) and wearables/mobile tracking devices (40%)
The online survey gathered responses from 31 countries and 32 industries. The data was collected in January-March 2018.
To find out more information about responses to this survey or other human capital management research visit http://www.brandonhall.com.
Download a SnapShot of this study now http://go.brandonhall.com/DataNow-Snapshot-Wellness_and-Well-Being.
About Brandon Hall Group Inc.
Brandon Hall Group is a HCM research and advisory services firm that provides insights around key performance areas, including Learning and Development, Talent Management, Leadership Development, Talent Acquisition and HR/Workforce Management.
With more than 10,000 clients globally and 25 years of delivering world-class research and advisory services, Brandon Hall Group is focused on developing research that drives performance in emerging and large organizations, and provides strategic insights for executives and practitioners responsible for growth and business results.
At the core of our offerings is a Membership Program that combines research, benchmarking and unlimited access to data and analysts. The Membership Program offers insights and best practices to enable executives and practitioners to make the right decisions about people, processes, and systems, coalesced with analyst advisory services which aim to put the research into action in a way that is practical and efficient. (http://www.brandonhall.com)
For additional information about our organization please contact Mike Cooke via mike.cooke(at)brandonhall(dot)com or via phone at (561) 306-3576.