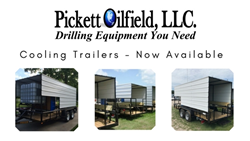 LIBERTY, Texas (PRWEB) April 24, 2018
In 2017, OSHA recorded at least 15 on-the-job, heat-related deaths. Numerous heat-related illnesses were similarly reported. Heat illness can lead to brain damage, as well as damage to other vital organs.
Oilfield workers are particularly susceptible, as the job demands long hours in often punishing conditions.
In March, Pickett Oilfield, LLC took steps to help the energy industry address this problem by adding "Oilfield Safety Cooling Trailers" to their product line, bumper-pull trailers which can be taken to any job site.
Pickett's trailers are designed especially for use in oilfields. They provide relief up to 30 degrees cooler than prevailing outdoor temperatures. Trailers are 16 feet long, include a 36" or 48" cooling fan, a 275-gallon water tank, a 3500-watt generator and comfortable benches. They are designed to withstand the rigors of the oil fields, especially when it comes to dirt and grime: they can simply be hosed out on a regular basis to keep them clean and nice.
Each trailer is customizable, offering options to increase shade, increase airflow, to add an eyewash station or to increase the trailer size.
Current solutions often place single employees into vehicles to cool off using vehicle ACs, wasting gas and money. By contrast, the trailers seat multiple employees and can deliver up to two hours of fan time per gallon of gas. Trailers will also run for ten hours on a single tank of water.
Providing proper cooling stations helps oil and gas employers meet their OSHA safety obligations. They also help to keep employees productive by keeping them safe, reducing illness-related work stoppages, and building employee loyalty by demonstrating an employer's care and concern for each worker's health.
For more information, visit http://www.pickettoil.com.
CONTACT:
Ernie Pickett IV
Pickett Oilfield LLC
200378 US Hwy 90E
Liberty, TX 77575
T: 936-336-5154 F:936-336-3434
ABOUT PICKETT OILFIELD, LLC
Pickett Oilfield, LLC is a family-owned international buyer and seller of new, used, and refurbished oil, gas, drilling and workover equipment for both offshore and onshore use. Headquartered in Liberty, TX, the company has touched every oil-producing region in the United States and beyond. Pickett Oilfield is committed to reducing supply chain costs for energy companies by converting surplus assets into profits.
Customers who call can expect to speak with a live, warm human every time. For more information, visit http://www.pickettoil.com.