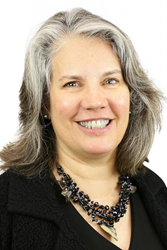 "Lindsay's impressive track record and lifelong commitment to advocating for those less fortunate make her the ideal person to spearhead our global efforts to end extreme poverty by 2030." -Sir Fazle Hasan Abed
NEW YORK (PRWEB) April 20, 2018
BRAC, a global leader in creating opportunities for the world's poor and one of the world's largest non-governmental development organizations, today announced the appointment of Lindsay Coates as managing director of the Ultra Poor Graduation Initiative. Lindsay is joining in a new role that will accelerate the momentum of BRAC's initiative to advocate for the alleviation of poverty worldwide.
BRAC is a development success story, spreading anti-poverty solutions born in Bangladesh to 10 other developing countries in Asia and Africa. Lindsay brings to BRAC more than 15 years of nonprofit executive experience, a legal background in civil rights, and expertise in converging human rights, the social sector, and global development.
As the president of InterAction, Lindsay currently oversees management and institutional outreach to InterAction members and partners. A lifelong advocate for human dignity, Lindsay also serves on the steering committee of the World Bank Global Partnership for Social Accountability, the executive committee for Modernizing Foreign Assistance Network, and the boards of Episcopal Relief and Development, and United States Global Leadership Coalition. She also served on the Obama administration's Task Force on Global Poverty. Prior to her work in the nonprofit sector, Lindsay practiced civil rights law in various capacities.
"We are thrilled to welcome Lindsay into the BRAC family," said Sir Fazle Hasan Abed, BRAC Founder and Chairperson. "Lindsay's impressive track record and lifelong commitment to advocating for those less fortunate make her the ideal person to spearhead our global efforts to end extreme poverty by 2030."
The Ultra Poor Graduation Initiative addresses extreme poverty globally by advocating for BRAC's evidence-based Graduation approach, which enables the poorest people to achieve a sustainable livelihood. BRAC advises and supports governments, nonprofits, and UN entities to adapt and implement this methodology. Studies show BRAC's program significantly improves the income and well-being of participants for years after they complete it.
"I'm excited to accept this challenge," Lindsay said. "As a matter of justice and equity, we must be relentless in our work to eliminate extreme poverty. BRAC's focus on the ultra poor, especially women and girls in rural areas, both builds a more just world and creates the foundation for prosperous societies. I am honored to be invited to join the BRAC Ultra Poor Graduation Initiative and work with amazing leaders and staff from across the BRAC family."
Lindsay will join BRAC full time in July 2018.
ABOUT BRAC
BRAC is a global leader in developing and implementing cost-effective, evidence-based
programs to assist the most marginalized people in extremely poor, conflict-prone, and
post-disaster settings. These include initiatives in education, healthcare, microfinance,
women's and girls' empowerment, agriculture, human and legal rights, and more. BRAC reaches more than 120 million people in 11 countries. Learn more at http://www.brac.net.
ABOUT BRAC USA
Based in New York, BRAC USA is the North American affiliate of BRAC. BRAC USA provides comprehensive support to BRAC around the world by raising awareness about its work to empower the poor in 11 countries and mobilizing resources to support programs. BRAC USA works closely with its international counterparts to design and implement cost-effective and evidence-based poverty innovations worldwide. Learn more at http://www.bracusa.org.
ABOUT ULTRA POOR GRADUATION
BRAC's Ultra Poor Graduation Initiative addresses extreme poverty globally by advocating for its evidence-based Graduation approach, which enables the poorest people to achieve a sustainable livelihood. BRAC advises and supports governments, nonprofits, and UN entities to adapt and implement this methodology. BRAC also implements a large-scale poverty alleviation program that has graduated nearly two million households. Studies show BRAC's program significantly improves the income and well-being of participants for years after they complete it. Learn more at bracultrapoorgraduation.org