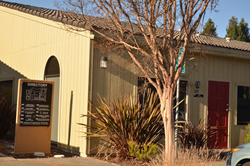 Santa Rosa Orthopaedics (SRO) expands services in Petaluma
PETALUMA, CA (PRWEB) April 24, 2018
Santa Rosa Orthopaedics (SRO) announces the expansion of services at their medical office in Petaluma, located at 167 Lynch Creek Way. The Petaluma office affords patients comfortable exam rooms, a full-service casting room, access to SRO sports medicine and rehabilitation services and on-site x-ray services. Multi-specialist orthopaedic surgeons including; Dr. Neema Pourtaheri , Dr. Dominic Mintalucci, Dr. Christian Athanassious, Dr. Mark Schakel and Dr. Michael McDermott make up the expanded orthopaedic care team who are available by appointment at SRO's Petaluma site. Together these exceptional physicians provide the most up-to-date, medically appropriate treatment. A full range of services will be provided for Petaluma patients including;

General orthopaedics
Shoulder and elbow
Hand and upper extremity
Foot and ankle care
Hip and knee
Spine care
Regenerative medicine
Sports medicine
The SRO team treatment model is extended to the Petaluma location and it focuses on diagnostics and meticulous surgical details in addition to carefully monitored post-surgical recovery. A collaborative approach in treatment helps to assure quality of care and delivers successful results for patients. Services at the Petaluma office incorporates on-site diagnostic x-ray and SRO's fully automated and HIPAA-compliant electronic records system coordinated to achieve the highest level of patient recovery.
About Dr. Pourtaheri
Dr. Neema Pourtaheri is a board certified and fellowship trained orthopaedic surgeon who brings invaluable medical expertise to the SRO team. He has trained alongside some of the world's finest orthopaedic surgeons and in highly versed in the latest advancements in shoulder and elbow care. In addition, he practices general orthopaedics including arthroscopy, fracture care, joint replacement, reverse total shoulder replacement and total shoulder & elbow replacement with a focus on minimally invasive procedures. Dr. Pourtaheri also offers Regenerative Medicine including Platelet Rich Plasma (PRP) injections to advance healing and pain relief when standard treatments are not as effective.
About Dr. Mintalucci
Board-certified, fellowship trained orthopaedic surgeon Dr. Dominic Mintalucci specializes in microsurgical, hand and upper extremity surgery. He also co-directs The Hand Center at SRO alongside Dr. Kai-Uwe Mazur. Dr. Mintalucci has trained in the most advanced surgeries Including Tenex medial epicondylitis (Golfers elbow), lateral epicondylitis (Tennis elbow), Achilles tendon, and elbow surgeries. He also performs Platelet Rich Plasma (PRP) injections for quicker healing and pain relief as an alternative to surgery when standard treatments fall short.
About Dr. Athanassious
Dr. Christian Athanassious is a board-certified spine surgeon with fellowship training in spine surgery from Stanford University and is the Medical Director of The Total Spine Health Program at SRO. Dr. Athanassious brings invaluable expertise and knowledge about the latest advancements in orthopaedic spine operative and nonoperative care to individuals of all ages in the greater Santa Rosa area. He also serves on the medical staff leadership committee at Sutter Santa Rosa Regional Hospital.
About Dr. Schakel
Dr. Mark Schakel is the director of the Foot & Ankle Program at SRO and as such he specializes in treating problems of the foot, ankle, knee as well as shoulder, elbow, wrist, and hand. He has extensive experience in treating problems of the foot and ankle, including reconstructive, traumatic, sports-related and congenital problems and is the only fellowship-trained orthopaedic foot and ankle surgeon in Sonoma, Napa, Mendocino, Lake and Humboldt counties.
About Dr. McDermott
Dr. Michael McDermott is a board certified orthopaedic surgeon specializing in sports medicine and other orthopaedic problems, with emphasis on arthroscopic, complex reconstruction and minimally invasive procedures of the knee, hip and shoulder. Dr. McDermott offers Mako Robotic assisted surgery for knee replacement. He is the lead team physician for Sonoma State University sports program.
About SRO
The Santa Rosa Orthopaedic Medical Group (SRO) believes that improved patient outcomes result from two essential factors: specialized expertise and comprehensive care. A recognized Center of Excellence serving North Bay patients for more than 62 years, SRO's board-certified and fellowship trained subspecialists combine extensive knowledge and experience with innovative surgical techniques. The professional team comprised of physicians, medical assistants, physical and occupational therapists and staff work together to ensure that each patient benefits from an extraordinary continuum of care.
For more information about SRO surgeons and services visit srortho.com. Call 707.546.1922 to schedule an appointment at the Petaluma Office.