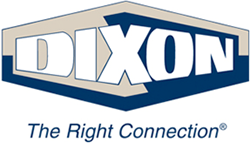 Our overfill prevention system is an extremely reliable and failsafe solution – one that's easier to install, simple to operate, and allows for easy troubleshooting.
CHESTERTOWN, Maryland (PRWEB) April 24, 2018
Dixon Valve & Coupling Company, a leading worldwide manufacturer and supplier of hose fittings and accessories, announces the introduction of a new Overfill Prevention System that protects against the risk of overfilling when transferring liquids, or during automated or unattended tank filling.
The Overfill Prevention System is particularly well-suited for applications involving bulk liquid transfer such as chemicals, as well as for locomotive, marine, off-road and stationary power fueling.
The Dixon Overfill Prevention System utilizes dry disconnect fittings that prevent leaks and are more secure, making it significantly more spill-resistant compared to currently-offered system designs. The new Dixon system relies on level sensing in the tank to control the flow of the liquid – a much more reliable design.
Additionally, the Dixon Overfill Prevention System is engineered with a single point of connection for both the fluid flow and the electrical connection. Visual confirmation of system integrity at the point of fluid connection allows for immediate user feedback in the case of any system faults.
Functional Design
Important design features that make the Dixon system so highly effective include a 3" dry disconnect coupler and adaptor that eliminates spillage when connecting and disconnecting during fluid transfers. A single-point, push-and-turn connection is supported by LED controls that signal the system status to users.
Moreover, the controller automatically shuts off the pump or closes the valve when the tank is full. This fail-safe feature prevents any fluid flow once the tank is full, and also protects against fluid flow if there is any fault detected in the system. It is a distinct improvement over vacuum-operated systems, which can experience incidences of liquid flow shutting off too soon – or not at all.
Designed for rugged durability, the dry disconnect coupler and adapter are made of aluminum, 316 stainless steel and brass/gunmetal materials, while the coupler and adapter rings are made of CPVC (chlorinated polyvinyl chloride) material. Additionally, the gold-plated copper electrical connections are engineered to resist corrosion.
Working pressures for Dixon's Overfill Prevention System (at 70˚F) are as follows: Aluminum (230 psi); Stainless Steel (360 psi); Brass/Gunmetal (230 psi). The system can be integrated with float switches and ADS probes, the Dixon industrial fluid control shutdown and alarm system for overfill protection. It can be provided as intrinsically safe for hazardous environments.
Commenting on the important attributes of Dixon's new Overfill Prevention System, Sean Andersen, Product Manager states, "Our overfill prevention system is an extremely reliable and failsafe solution – one that's easier to install, simple to operate, and allows for easy troubleshooting. For the operator there are no extra steps to perform. Simply make the connection and the system becomes active. Moreover, it's available at a lower-cost compared to other systems currently being offered."
For more information about the new Overfill Prevention System from Dixon, contact Sean Andersen, Product Manager at 410-708-9322 or e-mail your request to sandersen(at)dixonvalve(dot)com.
About Dixon
Dixon is a leading manufacturer and supplier of hose fittings, fluid control products and accessories. The company serves a broad range of industries – including the agricultural, chemical, construction, fire prevention and suppression, food and beverage, industrial, mining, petrochemical and pharmaceutical segments – by offering the market's most comprehensive product line available from a single source.
Established in 1916, Dixon celebrates over a century of Uncommon Excellence™ in supporting its customers and helping industry run better.