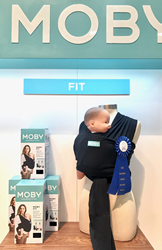 The fact that the MOBY Fit was acknowledged for 'Best Design' by JPMA's panel of judges validates our success... Yann Boulbain CEO - MOBY
LOS ANGELES (PRWEB) May 01, 2018
On Thursday, March 22, the Juvenile Products Manufacturers Association (JPMA) gave the MOBY Fit by MOBY an award for Best Design during the JPMA Baby Show in Washington D.C. The 'honorable mention' acknowledgment not only establishes the MOBY Fit as a trending product in 2018, but also demonstrates how the MOBY brand is providing modern parents with the intuitive, convenient products they're looking for today.
Of the accomplishment, MOBY CEO Yann Boulbain said, "At MOBY, we're constantly striving to create innovative, valuable, easy-to-use products that not only meet the needs of new parents, but also make their lives easier. The fact that the MOBY Fit was acknowledged for 'Best Design' by JPMA's panel of judges validates our success in this area and shows just how much the MOBY brand appeals to today's on-the-go moms and dads."
The award is the latest in a string of successes for the MOBY Fit. The hybrid carrier, which combines the closeness of a wrap with the ease of a traditional carrier, has successfully launched with key retailers and is quickly gaining popularity with new parents. Remarking on the design, JPMA judge Mat York said, "As a judge in the JPMA Product Innovation Awards, I was very impressed by the creativity and uniqueness of the MOBY Fit. It's Best Design Award was well-deserved not only for its ability to fill a much needed gap in the baby carrier market, but also for the ease-of-use to the parent or caregiver."
About Moby
Our founders created MOBY® (MOther & baBY) after their own search for a safe, easy, and convenient baby carrier came up empty-handed. They set out to create an easy-to-use wrap that would work on-the-go and help them feel close to their new bundle of joy - and the MOBY Classic was born! Since then, MOBY has continued to create new products and share the benefits of babywearing with parents and caregivers worldwide. We now offer a wide array of baby carrier options for you and yours: Our Classic Wrap (100% Cotton) and Evolution Wrap (70% Viscose/30% Cotton), the fashionable Ring Sling, our traditional Meh Dai / Bei Dai style baby carriers, the Buckle Tie and Double Tie, plus our new MOBY Fit hybrid wrap/carrier combo and Destination Diaper Bag Backpack.
MOBY – Close enough to kiss®
Learn more at MobyWrap.com