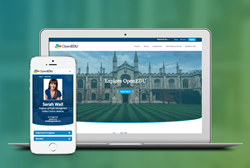 Vancouver, BC (PRWEB) May 01, 2018
OpenEDU is the leading platform for delivering a framework to meet the technical and user-experience needs of higher education digital experiences on Drupal 8. OpenEDU is fully extensible and can be customized to meet more complex and technical requirements.
The latest release of OpenEDU is powered by the Acquia Lightning distribution. It is developed and maintained by ImageX (http://www.imagexmedia.com/openedu/) and 1xINTERNET (http://www.1xinternet.de/).
This release includes:
On-page editing tools such as:

SEO Tracker
Google Analytics integration
Supports Accessibility Checker
Support for Events, including Calendar integration
Improved Enterprise Search functionality
Advanced Form Builder
Drupal Core 8.5.1 update
Security update DRUPAL-PSA-2018-001 (issued March 28, 2018) and DRUPAL-PSA-2018-003
Upgraded to Bootstrap 4
Of all the feature updates for this release of OpenEDU, the on-page tools available to the content editors have been received with the most enthusiasm. Page editors can see, in real time, SEO results for the page, page analytics through an integration with Google Analytics, and the level of accessibility of content on the page.
Download the latest release of OpenEDU today: from https://www.drupal.org/project/openedu
About ImageX
ImageX is a Drupal-based web agency and has delivered more than 300 Drupal sites to some of the world's most prestigious brands, including Apple, Samsung, Adidas, Disney, Adobe, The Discovery Channel, Arizona State University and Trinity University. To learn more, please visit http://www.imagexmedia.com.
About 1XInternet
1xINTERNET provides bespoke Drupal solutions: cost-effective, scalable, and convention driven. They have been providing professional web services and solutions since 2011. For more information visit http://www.1xinternet.de/.
About Acquia
Acquia is the leading provider of cloud-based, digital experience management solutions. With Acquia, thousands of customers globally are delivering digital experiences with transformational business impact. For more information visit http://www.acquia.com.