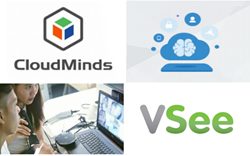 Cloud robotics holds great promise to extend and expand service delivery and accuracy in healthcare markets.
CHICAGO (PRWEB) April 26, 2018
VSee and CloudMinds Technology today announced a partnership to overcome key challenges in next generation telemedicine application delivery. While the promise of telemedicine is great, obstacles remain in patient-to-provider face-to-face communication including accurate translation, voice recognition and understanding of patient intent. VSee and CloudMinds are integrating the power of the leading telemedicine platform with cloud-based AI to overcome these challenges and support efficient telemedicine delivery.
Robert Zhang, co-founder of CloudMinds and CEO of CloudMinds US and Japan notes, "As the world's first cloud robotics operator, CloudMinds provides critical technologies to enable the next generation of robotic operations worldwide. A key capability of our platform is providing speech, natural language and conversation translation that can be used by many platforms for service delivery. We are delighted to be working with VSee to deliver these features to telemedicine."
Milton Chen, VSee CEO comments, "VSee's goal is to make telehealth an everyday experience by providing a simple way for patients and providers to connect from anywhere. As such, we are continually looking for the best ways to increase efficiency and speed in delivering better health outcomes. Cloud robotics holds great promise to extend and expand service delivery and accuracy in healthcare markets. CloudMinds is a leading partner in our efforts to bring to the table innovations in chronic care management and preventative health."
VSee & CloudMinds will be exhibiting their solution in VSee booth #2510 at the American Telemedicine Association (ATA) Annual Conference, April 29 - May 1 in Chicago. Register as an attendee with the code 30367 for a free expo-only pass.
In addition, CloudMinds Director of AI & Robotics Applications, Charles R. Jankowski Jr., Ph.D. will be a speaker in the VSee booth along with Dell, Optum, and Logitech. Full VSee booth speaker schedule is available here.
Telemedicine Capability Overview
VSee's robust platform technology encompasses a full range of tools for simple telemedicine consults and chronic care management including:

Patient portals with walk-in or scheduled video visits, goal setting, health and wellness device integration (e.g. blood pressure cuff, digital stethoscope, health trackers, glucose meters),
Provider dashboard with patient queue, health data visualizations, visit notes
Practice management dashboard for managing provider profiles & availability, call analytics, patient scheduling
Simple, secure (HIPAA-compliant) app with video chat, live whiteboard, secure text chats & picture-sending.
Cloud AI Capabilities for Telehealth
CloudMinds capabilities supported in the VSee platform and delivered through APIs include Speech, Natural Language Processing and Conversation. CloudMinds' best-of-breed strategy ensures delivery of the best possible recognition, understanding, and conversation performance through a combination of high-performance 3rd party APIs and in-house functionality.
Speech:
Speech-to-Text (STT) provides both streaming (WebSockets) and non-streaming (via REST) support, and multiple languages.
Speaker ID/ verification identifies a person from his/her speech
Language ID automatically detects the origin of the spoken language
Text-to-speech with various languages and voices
NLP:
Intent classification: Identifies what a patient wants when a request is spoken
Slot filling: extracts critical information from a natural language request
Sentiment analysis: analyzes user sentiment based on the text of a message or messages
Conversation:
Dialog management supports natural sounding dialog via both state based dialog management and deep learning based approaches
Knowledge management supports quality assurance by assembling knowledge from unstructured data.
Chitchat: supports realistic chit chat conversation between patient and provider.
About VSee
VSee is the fastest way for patients and providers to connect from anywhere. VSee provides a complete, scalable platform with simple HIPAA communications and flexible clinic workflows. It's robust design allows for seamless integration into a wide range of workflows including ER diversion, on-call specialist consults, tele-ICU, chronic disease management, telerehabilitation, and more. VSee's 1000+ clients include Walgreens, MDLIVE, Trinity, McKesson Specialty, Ascension Seton, Shell, UCSF, DaVita, and NASA astronauts on the Space Station. Visit vsee.com
About CloudMinds Technology
CloudMinds Technology is a pioneer, developer and operator of cloud robotic solutions. The Company Makes Robots SmarterTM by providing the enabling secure network and cloud fabric coupled with a real-time, multi-modal human-in-the-loop cloud platform to connect robots to Cloud AI. CloudMinds is backed by SoftBank, Foxconn, Keytone Ventures and Walden International. CloudMinds has R&D and operations in Santa Clara, California, Beijing, China and Tokyo, Japan. http://www.cloudminds.com