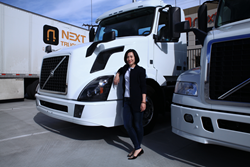 "We are seeing record numbers of carriers and shippers continue to embrace our trucker-centric online marketplace instead of relying on outdated processes that no longer serve them. This has resulted in accelerated growth in all areas of our business."
LYNWOOD, Calif. (PRWEB) May 14, 2018
EY today announced that CEO and Co-founder Lidia Yan of NEXT Trucking is a finalist for the Entrepreneur Of The Year® 2018 Award in Greater Los Angeles. The awards program recognizes entrepreneurs who are excelling in areas such as innovation, financial performance and personal commitment to their businesses and communities. Yan was selected as a finalist by a panel of independent judges. Award winners will be announced at a special black tie Award gala on Thursday, June 14, 2018, at The Beverly Hilton hotel in Beverly Hills.
"While the award is called Entrepreneur of the Year, I consider this to be a recognition of the work that my team at NEXT Trucking has been doing to solve the biggest challenges in logistics today. It takes a strong team to build a successful business," said Yan, "I'd also like to thank Omar Hamoui, our partner at Sequoia Capital, for believing in our vision."
Now in its 32nd year, the program has expanded to recognize business leaders in more than 145 cities and more than 60 countries throughout the world.
To learn more about the Greater Los Angeles program, please visit http://www.ey.com/us/eoy/greaterla. Join the conversation on social media by following us @EY_EOYUS and using #EOYGLA.
Regional award winners are eligible for consideration for the Entrepreneur Of The Year National competition. Award winners in several national categories, as well as the Entrepreneur Of The Year National Overall Award winner, will be announced at the Entrepreneur Of The Year National Awards gala in Palm Springs, California, on November 10, 2018. The awards are the culminating event of the Strategic Growth Forum®, the nation's most prestigious gathering of high-growth, market-leading companies.
Sponsors
Founded and produced by EY, the Entrepreneur Of The Year Awards are nationally sponsored in the US by SAP America, the Kauffman Foundation and Merrill Corporation.
In Greater Los Angeles, local sponsors include Gold sponsor: Tangram; Silver sponsors: Avison Young, Ballard Spahr LLP, Cresa, HighTower – Acacia Wealth Advisors, and Woodruff-Sawyer & Company; Media sponsor: C Suite Media; and PR sponsor: Olmstead Williams Communications.
About NEXT Trucking
NEXT Trucking's unique trucking marketplace empowers truckers and connects shippers to experienced drivers seamlessly by aligning all parties on routes, pricing, driver behavior and other intelligent matching algorithms. The easy-to- use mobile app and web solution fundamentally changes how the shipping industry does business by replacing an antiquated process with a system that provides transparency, efficiency and stability across the trucking community.
To learn more about NEXT Trucking, visit http://www.nexttrucking.com.
About Entrepreneur Of The Year®
Entrepreneur Of The Year®, founded by EY, is the world's most prestigious business awards program for entrepreneurs, chosen from an independent panel of judges including entrepreneurs and prominent leaders from business, finance, and the local community. The program makes a difference through the way it encourages entrepreneurial activity among those with potential and recognizes the contribution of people who inspire others with their vision, leadership and achievement. As the first and only truly global awards program of its kind, Entrepreneur Of The Year celebrates those who are building and leading successful, growing and dynamic businesses, recognizing them through regional, national and global awards programs in more than 145 cities and more than 60 countries. Please visit ey.com/eoy.
About EY
EY is a global leader in assurance, tax, transaction and advisory services. The insights and quality services we deliver help build trust and confidence in the capital markets and in economies the world over. We develop outstanding leaders who team to deliver on our promises to all of our stakeholders. In so doing, we play a critical role in building a better working world for our people, for our clients and for our communities.
EY refers to the global organization, and may refer to one or more, of the member firms of Ernst & Young Global Limited, each of which is a separate legal entity. Ernst & Young Global Limited, a UK company limited by guarantee, does not provide services to clients. For more information about our organization, please visit ey.com.