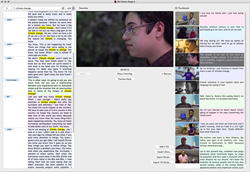 Receiving these awards is the perfect cap to the great reception Builder had during NAB. I am also particularly proud of the Studio Daily nod, as it rewards a career that I hold dear. (Philip Hodgetts, CEO/Co-Founder, Lumberjack System)
LAS VEGAS (PRWEB) May 01, 2018
Lumberjack Builder, the newest addition to the Lumberjack System suite of products, and it's co-founder CEO, Philip Hodgetts, received two prestigious awards at the recent NAB 2018 (National Association of Broadcasting Convention).
Lumberjack Builder is a recipient of NewBay Media's Best of Show-Digital Video Award, presented by Digital Video Magazine, and Philip Hodgetts, was awarded Top 50 Technologist 2018 by Studio Daily.
Lumberjack Builder is recognized for its innovative new Non Linear Editor: one driven by text via transcripts to edit both audio and video using complex coding and AI technology, underpinning a simple user-friendly interface. Builder is a pre-editing tool for producers, story-editors, editors and production or post assistants who are now able to prepare a script and output a first cut by editing (dragging and dropping) text.
Builder is breaking barriers worldwide as an unprecedented story-building tool for non-scripted productions such as reality TV, documentary, worship production, news, and more.
Simultaneously, technologist and futurist, Philip Hodgetts took home his second "Top 50 Technologist Award" from Studio Daily. Hodgetts immigrated to the United States from his native Australia over a decade ago and has established himself, alongside his longtime partner, Dr. Gregory Clarke, as one of the world's leading experts on metadata-based systems and futuristic workflows.
Lumberjack Builder, along with all the winners, will be featured in New Bay Media's Digital Video magazine, read by thousands of video professionals. Digital Video offers technology-focused editorial, in-depth reviews, expert guidance and tutorials alongside editorial that follows the creative process, examines project challenges and showcases compelling work.
All nominated products are featured in the special Best of Show Awards Program Guide, to be distributed in digital edition form to more than 100,000 readers of Digital Video, TV Technology, Video Edge, Government Video, Radio World, Radio, Pro Sound News and Sound & Video Contractor after the convention.
"We are immensely proud to receive this award from Digital Video," says Lumberjack System President Philip Hodgetts, "It's the perfect cap to the great reception Builder had during NAB. I am also particularly proud of the Studio Daily nod, as it rewards a career that I hold dear."
About Lumberjack System and Intelligent Assistance:
Lumberjack System's goal is to make the process of organizing and pre-editing media as automatic or simple as possible for content creatives working in the film and television and other non-scripted industries. Lumberjack System was created by the founders of Intelligent Assistance Software: Philip Hodgetts and Dr Gregory Clarke. For more information, visit LumberjackSystem.com.
 
Intelligent Assistance Software, Inc. is an innovator in technology and systems for producers and editors dedicated to building tools to make working with metadata in digital media easier. With products such as SendToX, XtoCC, Sync-N-Link X, Producer's Best Friend, Sequence Clip Reporter and Change List X/CC, the award-winning company has been on the forefront of editing and workflow management software since 2007. For more information, please visit IntelligentAssistance.com
About Studio Daily: StudioDaily is the leading source of news, opinions and best practices for the digital content creation market. Featuring a mix of original reporting, expert reviews and tutorials, and interviews with leading creatives, StudioDaily keeps readers up-to-date on critical workflow developments, product releases and new and emerging creative techniques.
Led by Editorial Director, Bryant Frazer, Contributing Editor, Beth Marchant, and Director of Strategic Partnerships, Jonathan Toback, StudioDaily focuses on technology, craft, and creativity for feature film, TV, commercials, marketing, and more. In constant consultation with Hollywood technologists, our experienced industry journalists track the latest trends in capturing and finishing from HD to 4K and beyond.
To learn more about Studio Daily and the Studio Daily Prime Awards, visit http://www.studiodaily.com/.