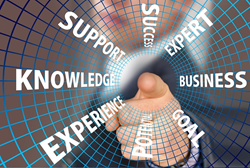 We increase the success of our clients by providing people, processes and solutions that improve the way they do business.
ENDICOTT, NY (PRWEB) May 01, 2018
Paper Alternative, a regional leader in providing business process improvement to businesses, government agencies, schools and other organizations in New York and beyond, brings new solutions and services to their clients:

Full-service Workforce Solutions for call centers, data entry, IT and similar staffing requirements
Workflow Automation Solutions to increase efficiency and reduce errors in paperwork processing
Expanded IT Support Solutions, including cyber security & security vulnerability assessments; Microsoft & Cisco Certified engineers; Custom Programming and more.
Expanded Document Imaging & Scanning Services now include Large Format and Book Scanning, in addition to Office Document Imaging.
Industry-Specific Paperless Solutions for Education, Government, Health Care, Manufacturing, Utilities and more.
These are in addition to the original paperless office solutions and products that Paper Alternative has provided since its founding in 2011, including records management, data extraction, document scanning, ImageSilo®, Forms Magic, and more.
Founded in 2011 by Molly J. McGowan, Paper Alternative boasts 50+ years of collective experience in business process analysis, design and implementation. From basic document management to sophisticated, compliant work flows, our goal is to provide every client with cost-effective alternatives to paper-based processes. Our consultative approach to business processes considers the unique requirements of each organization. We provide processes, tools and solutions that empower organizations to perform better. Contact us today to learn how we can help your business.
As a growing customer-centric business, Paper Alternative strives to bring efficient, cost-effective solutions to their clients.
"Our goal has always been to increase the success of our clients by providing people, processes and solutions that improve the way they do business," says Molly McGowan, President. "As we serve more and more clients, we're constantly presented with new business process challenges, and we rise to those challenges."
Paper Alternative has added these new solutions and services both in response to client requests and in anticipation of future contract needs.
Along with the new offerings, Paper Alternative recently published a new website with more product information, videos and more opportunities for visitor interaction. If you haven't visited http://www.paperalternative.com recently, the company invites you to do so, and encourages you to check back frequently as the website will continue to expand.