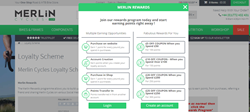 "We are thrilled with the high level of customer engagement we have experienced since implementing Zinrelo's loyalty rewards program." John Moss, Founder at Merlin Cycles
SUNNYVALE, Calif. (PRWEB) May 01, 2018
In the close-knit niche market of cycling, Merlin Cycles is on a constant mission to connect with customers and provide them with not only the best products available but also a mutually beneficial relationship with the brand.
Seeking to engage patrons and create deeper relationships with them, Merlin Cycles sought out a system to reward their customers for loyalty to the brand. They trusted Zinrelo, the industry leader in modern-day customer loyalty programs, to launch the tier based 'Merlin Rewards' program. The 360-degree loyalty rewards program encourages customers to engage with the brand onsite and via social interactions thus converting shoppers into loyal brand ambassadors.
The free-to-join loyalty program awards loyalty points to customers for multiple interactions on the website. Some of the prominent activities are:

Join the program and sign up for the newsletter - 100 points
Make a purchase on website: £1 = 1 point
Make a purchase in shop - 100 points
Share on social media - Up to 35 points on Pinterest, Facebook or Twitter
Winback bonus - 100 points
Merlin Cycles offers a range of exciting redemption options for its loyalty program users allowing loyalty points to be redeemed for money off of future purchases. Redemption amounts range from a £5 coupon code for 100 points to a £25 coupon code for 250 points.
Additionally, the brand is able to encourage repeat purchases on its website by continually motivating its customers to move through Merlin Rewards Tiers of Bronze, Silver, and Gold in order to maximize loyalty benefits and gain access to exclusive members-only discounts.
Bronze membership is reached when £50 is spent in a 12 month period; giving the customer 7.5% off list price of any product.
Silver membership is reached when £100 is spent in a 12 month period; giving the customer 10% off list price for any product.
Gold membership is reached when £250 is spent in a 12 month period; giving the customer 15% off list price for any product.
Merlin Cycles also uses the program's built-in, real time notifications to ensure that its customers are constantly updated on the points they earn for activities, redemptions and tiers. They further send out email notifications of the program to its customer base which resulted in an impressive 36% open rate and a click through rate of 6%.
"We are thrilled with the high level of customer engagement we have experienced since implementing Zinrelo's loyalty rewards program," commented John Moss, Founder at Merlin Cycles. "Having our customers go hand-in-hand with us, sharing our products with others, engaging with our brand on social media, and taking advantage of our generous loyalty rewards has further encouraged us to be the best on the market in choice, price, and customer service."
Zinrelo is an enterprise-grade loyalty rewards program offered as a self-service platform that allows businesses to boost customer engagement based on a flexible, pay as you go pricing model. The omni-channel solution integrates beautifully with existing websites and can be deployed easily for mobile (web and app), desktop and in-store (point of sale) use. The versatile program features customer email notifications, a highly scalable platform and a powerful business rules engine. This allows companies to define their own business rules for each points-earning activity, including number of points, maximum frequency, approval policies, tier qualifications and much more.Businesses can also add custom activities and build their own dashboards.
"We are proud of what Merlin Cycles has accomplished after the implementation of Zinrelo's loyalty rewards program," stated Samir Palnitkar, Founder at Zinrelo. "Merlin Cycles has been reaping the benefits of truly engaged customers. From social shares to email engagement, the power of brand loyalty is coming to fruition for Merlin Cycles."
About Merlin Cycles:
Established in 1993 by John Moss, Merlin Cycles is one of the longest running online bike stores in the UK. Twenty-five years after a mail order business start-up in a spare bedroom, Merlin Cycles now boasts a storefront, warehouse, offices, and an online presence reaching around the world.
For more information, visit https://www.merlincycles.com/
About Zinrelo:
Zinrelo brings you the world's best loyalty rewards and referral programs, helping to maximize revenue per customer and new customer acquisition through 360-degree customer engagement. It supports omni-channel interactions including desktop web, mobile web, mobile apps and in-store engagements.
Zinrelo loyalty rewards program boosts per-customer revenue by 2.4 times and repeat purchases by 80%. It creates fiercely loyal customers that are rewarded for all forms of engagements including purchases, social advocacy, reviews, sign-ups, referrals, photo sharing and more. It is fully customizable and is easy to deploy. Zinrelo referral program delivers a 25% uplift in new customer acquisition by converting your customers into brand ambassadors.
To zing your loyalty and referral programs, contact Zinrelo at http://www.zinrelo.com or info(at)zinrelo(dot)com