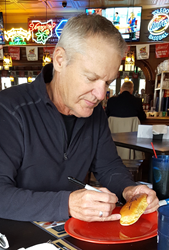 "While I was very flattered when PBS produced a documentary about my career a few years ago, I have to admit, I was even more excited about having my signature displayed on a Packo's bun."
TOLEDO, Ohio (PRWEB) May 01, 2018
Internationally recognized sculptor, George Carruth, recently signed a hot dog bun at the world-famous Tony Packo's restaurant headquartered in Toledo, Ohio.
Carruth joins a long list of celebrities in a tradition that began in 1972 when Burt Reynolds, while dinning in the original Packo's restaurant, picked-up a bun and autographed it. Since that time, celebrities including United States presidents, actors, athletes, musicians and astronauts have been asked to sign a bun for display at the restaurant locations.
"I was quite surprised when I was approached for this honor," stated Carruth, co-founder of Carruth Studio. "It is quite humbling considering the achievements of those who have their autographs displayed on a Tony Packo's hot dog bun."
"Looking at all of the celebrity signatures at our dining locations is a large part of the Packo's brand experience. Our customers really enjoy it and having a celebrity with local roots participate in the tradition is really special," said Scott Radel, Vice President at Tony Packo's.
"While I was very flattered when PBS produced a documentary about my career a few years ago, I have to admit, I was even more excited about having my signature displayed on a Packo's bun," added Carruth.
About Carruth Studio
Carruth Studio was founded by George Carruth and his wife Deb in 1983. Handmade stone sculptures from Carruth Studio can be found at galleries, specialty gift shops and garden centers around the world.
About Tony Packo's
Tony Packo's eastern European kitchen gained international fame when M*A*S*H character Corporal Maxwell Klinger, who was played by Jamie Farr, a Toledo native, made mention of the restaurant in several episodes of the popular television series.