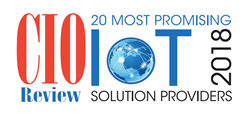 Clovity is leading the billion-dollar opportunity for the Media & Entertainment industry where IoT specific portfolio of solutions is unfolding and we are glad to be leading through our continuous investments in bringing end-to-end IoT Solutions to our clients
SAN FRANCISCO (PRWEB) April 27, 2018
Clovity Inc. (http://www.clovity.com), an industry-recognized end-to-end IoT solution provider, the creator of CSensorNet and CDatainsights, is leading the designing and building of intelligent products for the connected Media and Entertainment (M&E) world. Clovity's IoT solutions are revolutionizing all facets of next-generation solutions for the industry covering Sound, Audio, Acoustics, Temperature, Motion, Optics and Lighting, Proximity, Position and presence, by leveraging its IoT solutions and building analytics platform leveraging Machine Leading and Artificial Intelligence for Publishers, Broadcasters, Content Providers, Distribution and Aggregators. Clovity's Media clients are now generating a new breed of business by leveraging futuristic technologies, high-end devices, connected to secure clouds, bringing real-time insights to optimize the value of connected media, immersive content, content production, and the larger provider ecosystem.
The Media and Entertainment industry unlike other industries already has adopted IoT in a big way with strong foundational elements already in place. The Large publishers and broadcasters, who control the content and its delivery are leveraging their digital business models, multichannel delivery and new content formats like 3-D, 4-D, Ultra HD and Virtual Reality with one of the most robust technology architectures and infrastructures. It is evident that majority of IoT activity is now penetrating into production and distribution operations to track product flow, products business locations, and customer wearables.
Amidst such environment, Clovity is helping its Media and Entertainment companies and ecosystem players to design and build future of connected media solutions to bring immersive content and experiences to consumers.
Rohit Ranjan, Head of Delivery of Clovity, recently commented "We are witnessing nearly all types of media and entertainment businesses reaping benefits by leveraging end-to-end IoT solutions, where harvesting data on location, behavioral, consumer-preference and demographics from a devices and systems, is helping our clients build targeted consumer profiles and instantly deliver personalized content across multiple screens."
With a combination of IoT, Devices, Connectivity, Cloud and Big Data solutions, Clovity is accelerating these Media and Entertainment possibilities at a never seen before pace, for example:

By collecting and analyzing the sensor data through wearable devices for our clients in content and digital marketeering to determine how many people saw the same ad on multiple platforms and how many impressions actually triggered conversions.
Leveraging Smart authentication through end-to-end IoT solutions and biometrics for controlling user rights to content services, taking the whole "type password" and "parental control" out of the equation for our customers.
Personalization of content, experience, special offers deliver extra value to the target audience, building personal relationships with customers and subsequently increase revenue.
Cameron Starman, Director of Client Management and a Media and Entertainment technology expert, stated, "We are witnessing a billion dollar opportunity for the media industry where IoT specific portfolio of solutions is unfolding and we are glad to be in a position to be leading the same through our continuous investments in bringing end-to-end IoT Solutions to our media and entertainment clients"
About Clovity
As a Global Top 20 IoT Solutions Provider for 2017 & 2018 by CIO Magazine. Thinking "Agile | IoT | Embedded | Data | ML | AI | Cloud | DevOps | Digital" - Clovity a global Solutions Partner and Systems Integrator focused on transforming enterprises worldwide.
Clovity's technology and teams are helping Fortune 500 enterprises and high growth mid-market technology enterprises with fully integrated device-to-cloud-to-enterprise integration solutions with the outcome to simplify building your Internet of Things (IoT), Data, Cloud & Digital platforms to power tomorrow's Enterprise world.
Clovity's cognitive strength lies in the amalgamation of two powerful ideas - collaboration and transformity.
Clovity emphasizes on combining thought leadership, innovation and passion for technology together to achieve successful transformation and 'disruptive solutions' for Banking Finance, Healthcare and Retail industries that are IoT, Cloud, Consumerization and Big Data' focused.
Clovity's commitment to innovation has led to many Plug and Play solutions and frameworks in IoT (CSensorNet), Predictive Analytics (CDataInsights), DevOps, Mobility etc. that enables customers for faster time to market product launches.
Clovity underpins its solutions with 'deep Agile expertise' by leveraging its Agile Framework: Synthesis in every aspect of customer journey to ensure complete collaboration and transparency. Clovity's key is to work in absolute synchrony with customers to deliver solutions and projects to create scalable technology foundation and architecture for all future advancements.