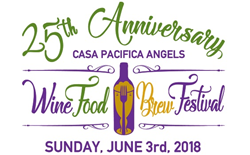 CAMARILLO, Calif. (PRWEB) April 26, 2018
Several of Ventura County's best chefs and top tier wineries will gather to create an unforgettable epicurean event at the 5th Annual Yummie Top Chef Dinner, taking place on Friday, June 1, 2018. Sheriff Geoff Dean will emcee the dinner, which kicks off the festivities for the 25th Anniversary Casa Pacifica Angels Wine, Food & Brew Festival - following on Sunday, June 3, 2018. This year's theme – A Night of Shimmer & Jazz - promises to deliver a dazzling evening full of great food, plentiful spirits, and a lively atmosphere.
The Cassar Family will be hosting the dinner for the fifth year in a row, and are joined by other Yummie Top Chef Dinner sponsors including Ventura Rental Party Center; Wells Fargo; The Tesoro Family; Roz Warner, M.D. & Michael Hogan, M.D.; Nevers, Palazzo, Packard, Wildermuth & Wynner PC; Cohen Begun & Deck, LLP; and Procter & Gamble.
Set in the Festival's VIP Lounge, the dinner brings together several of our region's top chefs – all of whom are Yummie Culinary Competition winners from previous Wine, Food & Brew Festivals – to present an incomparable seven-course feast to more than 200 fortunate guests. Each of the courses will be specially paired with local winemakers' best selections. One course will feature the winning handcrafted ale from the "Best in Fest" Brewery Competition taking place Sunday, April 29, 2018 at Bottle & Pint at The Collection at RiverPark.
In addition to the sumptuous dinner, guests will enjoy live music with specialty cocktails featuring Tito's Handmade Vodka. Yummie Top Chef Dinner chefs and the wine and brew makers are the highlight of the event when they join the guests to share special insights and details of their contributions.
Expert culinary master chefs (and their current affiliations) who will be participating include: all of the 2017 Savory winners, including: Chef Alex Castillo of Twenty88; Chef Ernest Romero of J Wolf Catering & BBQ; and Chef Sandra Cordero of Gasolina. Past winners Chef Nic Manocchio of University Auxiliary Services at CSUCI; Chef Bernardo Rodriguez of Ojai Beverage Company; Chef Jason Collis of Plated Events; and Chef Oscar Ledesma of The Little Door will also be joining the delicious line up.
A trio of delicious desserts will be provided by former Yummie Sweet category 3rd place winner - Ali Davis, owner of Sugar Lab Bake Shop, joined by previous winner Chef Alex Montoya of The Cave and Chef Anastashia Chavez of The 2686 Kitchen. Wineries joining in on the festivities (to-date) include Magnavino Cellars, Opolo Vineyards, Cantara Cellars, and The Cave. For up-to-date information on participating chefs and winemakers, please visit the Yummie Top Chef Dinner page at http://www.cpwinefoodbrewfest.com.
Tickets for this extraordinary dining experience are available for $200 per person, with prices going up to $225 on May 1, 2018. Guests must be 21 years of age and older; seating is limited. For more information or to purchase tickets visit the Festival's website at http://www.cpwinefoodbrewfest.com, or please contact Kaylyn Cassar, Casa Pacifica's Special Events Assistant at (805) 366-4024. All proceeds from the Yummie Top Chef Dinner support Casa Pacifica's programs serving vulnerable children and families.
About Casa Pacifica
Casa Pacifica Centers for Children and Families is a crisis-care and residential treatment facility for abused, neglected, or at-risk children in Ventura and Santa Barbara Counties. The agency is the largest non-profit provider of children's mental health services in both counties and administers a number of community-based programs designed to strengthen families and keep children in their homes and communities. For more information about Casa Pacifica visit its website http://www.casapacifica.org or call the Development & Public Relations Department at (805) 445-7800.