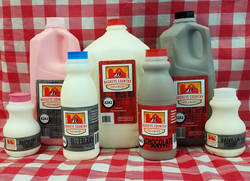 Technology founded in New Zealand over 25 years ago has finally made its way to the American Market thanks to Buckeye Country Creamery.
ASHLAND, Ohio (PRWEB) May 03, 2018
On Saturday, May 12 in Ashland, Ohio, join Buckeye Country Creamery for a chance to discover A2 Milk. A2 milk is commonly believed to be the 'Healthier Milk' with some very positive health outcomes for children and adults alike. It is believed to be the more natural form of real milk and is growing in popularity worldwide.
Technology founded over 25 years ago has finally made its way to the American Market thanks to Buckeye Country Creamery. As one of only a handful of A2 dairies in North America, Buckeye Country Creamery is proud to serve the nation with A2 milk and related dairy products, which contain enhanced health benefits that standard milk and dairy products do not offer.
Most notably, A2 milk and other A2 dairy products are easier to digest than regular dairy products due to the A2 protein contained in some cows. A2 milk is believed to be the more biologically and historically natural form of the Casein protein commonly found in Milk. The A1 commercial milk became linked over time to health problems, believed to be associated with digestive issues due to the interaction of the A1 Casein protein and the gastrointestinal tract.
Scientific studies have shown that A2 milk helps maintain a good intestinal environment and in fact, is associated with some remarkable positive health outcomes. Studies published in the National Institutes of Health Database show that A2 milk decreases the chance of developing Diabetes (type II), cardiovascular disease, and Autism. A2 milk has also been shown to keep the brain clearer and better able to function as compared to other milk. A2 milk can help with muscle recovery after exercise and may have other significant pro athletic qualities.
Please join Buckeye Country Creamery with guest, Dr. Paddy O'Casaigh BVSc, Ph.D., MRCVS to learn more about A2 milk and why it is vastly different from the milk commonly found in stores today.
Dr. O'Casaigh, a world renown scientist who has a passion for emerging technologies and their health benefits, will discuss A2 Milk, its genesis and the science behind it.
When: Saturday, May 12 @ 2:00 PM
Hosts: Tom & Marcia Lahmers and Christy & Joel Hulse
Address: 1698 State Route 511, Ashland, Ohio 44805
Buckeye Country Creamery will provide refreshments and snacks.
For more information, contact Christy Lahmers-Hulse at (E) BuckeyeCountryCreamery(at)yahoo.com or (T) 419-651-5868.