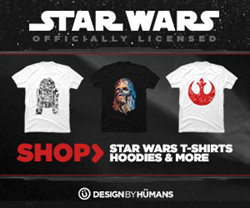 May the Fourth Be With You
(PRWEB) April 27, 2018
Once a year, Star Wars fans celebrate the galaxy far, far away with the much-loved holiday, May the Fourth. Whether fans feel a kinship with the Dark Side or the Jedi Masters, everyone can agree that May the Fourth is a perfect way to celebrate the Star Wars franchise. The popular pun "May the Fourth" – originally created by fans – has gained an official following with the observance of Star Wars Day, a once-a-year celebration for all the scruffy-looking nerf herders out there.
In honor of Star Wars Day, Design By Humans is excited to offer its community of fans the chance to buy one DBH tee and get the second tee for 50% off during the period of Friday 5/4/18 until Monday 5/7/18. Come to the Dark Side with DBH; enjoy two awesome Star Wars tees this May 4th, 2018. Head into hyperdrive today; every fan will want the chance to get a DBH Star Wars tee before it's too late.
As an official partner with Star Wars, DBH prides itself on offering fans the best Star Wars shirts, hoodies, tanks, and more for the whole family. All Star Wars fans – both of the original trilogy and new favorites like Solo: A Star Wars Story – will find the perfect tee from the diverse offerings of styles for men, women, and kids on Design By Humans.
Customer Service Lead, Marie Murray, loves all things Star Wars. She recalls making a home video of Star Wars: Episode IV - A New Hope, in honor of May the Fourth, with her siblings as a child. She says, " It was fantastic!" May the Fourth continues to be an important holiday for Star Wars fans; both children and adults enjoy celebrating Star Wars Day.
It's important to find a balance in your wardrobe, so be sure to get a few designs from the Dark Side, as well as, a few from the Light Side. Whether you're a Princess Leia admirer or a Luke Skywalker wannabe, DBH has something for everyone. Rebels and members of the Empire may not have a lot in common, but they can all appreciate the galactic Star Wars designs being offered to the DBH community.
Feel the force of these awesome DBH Star Wars designs this May the Fourth.
About Star Wars
The Star Wars franchise came to a movie theater far, far away in 1977 and the world has never been the same. The beloved space odyssey that started with films like A New Hope (1977), The Empire Strikes Back (1980), and Return of the Jedi (1983) has opened the door for continued sagas like The Force Awakens and, now, Solo: A Star Wars Story. The age-old struggle between good and evil has taken on galactic proportions in Star Wars and it continues to awe and inspire fans every day.
About Design By Humans
Design By Humans offers a platform for artists, gamers, and YouTubers to create and showcase their unique artwork as phone cases, wall prints, and fashionable tees, tanks, and more. With 10 years of experience, Design By Humans has woven a shared spirit that thrives on designing vibrant and meaningful art. To learn more about the vision, please visit:
https://www.designbyhumans.com/.
DBH works to build an environment that respects collaboration, quality, integrity, and the entrepreneurial spirit. The DBH Collective is inspired by the comical as well as the abstract, the imagined and the concrete; and works to create innovative art that is an expression and a reflection of today's society.
We are gaming fiends, cat-enthusiasts, and pop culture fanatics. Most importantly, however, we are a passionate team of independent creators who buzz for the next buzz word, whistle as we work, and create designs that inspire the next generation of trendsetters from around the world.
To become a part of the Design By Humans community and submit designs today, we encourage you to visit: https://www.designbyhumans.com/become-an-artist/ and learn more!
Follow Design By Humans on Facebook at /DesignByHumans, on Instagram at DesignByHumans with #designbyhumans, and on Twitter @DesignByHumans.