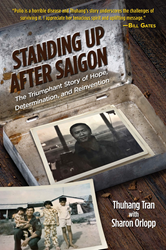 Standing Up After Saigon is a powerful reminder that against overwhelming odds, humans can prevail. Thuhang's journey is a gift of courage, hope, perseverance, and family love. --Sharon Orlopp
DALLAS (PRWEB) May 01, 2018
Standing up after Saigon: The Triumphant Story of Hope, Determination, and Reinvention (Brown Books Publishing Group), releasing today, is the incredible memoir of Thuhang Tran as told by author Sharon Orlopp. With a scarcity of personal, civilian memoirs from Vietnam at this time, this story provides a unique window into a particular era in history.
Born in Saigon near the end of the Vietnam War, Thuhang was two-and-a-half years old when she contracted polio, which left her legs partially paralyzed. Orlopp recounts how Thuhang's parents and siblings cared for her and sacrificed to get her the treatment that would enable her to walk again. But their efforts were disrupted when communists invaded South Vietnam and her father, Chinh, an air traffic controller in the South Vietnam Air Force, was lost in evacuations and presumed dead.
In this inspirational biography, Sharon Orlopp gives life to the voice of the underserved and presents the deeper message of awareness for a specific segment of the population that few have had the opportunity to hear.
"Thuhang's infectious, positive energy captivated me immediately. After listening to her mesmerizing story, I was spellbound and told her she needed to write a book about her life journey," says Orlopp. "I strongly believe in the power of story to change our perspectives about people who are different than us. Touching the heart changes behaviors. Stories have the power to persuade and influence in a way that can't be done with statistics and data. Standing Up After Saigon is a powerful reminder that against overwhelming odds, humans can prevail. Thuhang's journey is a gift of courage, hope, perseverance, and family love."
Thuhang hopes to inspire those who "feel invisible, under-appreciated, under-utilized, made fun of, disrespected, and not valued. I hope my journey as a person who is an immigrant and differently abled will build bridges, encourage cultural understanding and give inspiration for treating all people with dignity, respect, and inclusion."
To learn more about Thuhang Tran's triumphant story, visit http://www.StandingUpAfterSaigon.com.
About The Agency at Brown Books (ABB)
As a sister company of Brown Books Publishing Group, The Agency at Brown Books is backed by more than 20 years of publishing excellence, leveraged in the first full-service public relations, marketing, branding and distribution provider within a publishing house. The Agency provides high-level public relations, marketing and distribution services for not only Brown Books authors, but also non-affiliated authors, all within the same house. For more information, please visit http://www.TheAgencyatBB.com.
About Brown Books Publishing Group (BBPG)
Founded in 1994 as an Entrepreneurial Publisher for Entrepreneurial Authors®, Brown Books Publishing Group was established to fill a need in the publishing world by allowing authors to have a voice in the publishing process while retaining the rights to their intellectual property. Applying this innovative Relationship Publishing™ model, Brown Books has cultivated a prestigious stable of authors, from New York Times bestsellers to Pulitzer Prize winners and more. Boasting hundreds of high-quality books across genres, Brown Books is a fiercely independent publisher that encourages author empowerment. In 1994, Brown Books ushered in A New Era in Publishing™, and more than two decades later, continues to be a successful innovative leader in the publishing industry. For more information, please visit http://www.BrownBooks.com.