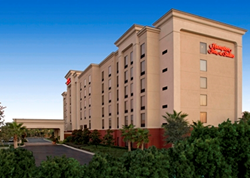 ORLANDO, Fla. (PRWEB) May 02, 2018
The Naples Hotel Group, a leading hotel development and management company announced they are now managing the Hampton Inn & Suites Orlando International Drive North. The Orlando hotel was purchased as a new venture for ownership group, RAG Holdings International LLC. The hotel was brought into the Naples Hotel Group portfolio under the leadership of Andrew Bou-Sliman, Vice President of Acquisitions and Development, and Rich Cassara, Senior Vice President of Operations.
The hotel is within walking distance to shopping, restaurants, and entertainment along International Drive. It is within two miles from the convention center and nearby Orlando's amusement parks. Naples Hotel Group will be charged with operations as well as overseeing property upgrades over the next 12-24 months.
"This Hampton Inn and Suites is a great asset to our manage hotel portfolio," commented Andrew Bou-Sliman, Vice President of Acquisitions and Development for Naples Hotel Group. "We love the density of Orlando and its different markets. It's exciting to be working with a hotel in the International Drive area."
The new management contract reflects Naples Hotel Group's recognized expertise in developing and operating premium branded products. Naples Hotel Group continues to grow its hotel management company in the Orlando market and the Southeast United States with this acquisition.
For more information or media inquiries, please contact Brittany Bou-Sliman at brittany(at)napleshotelgroup(dot)com or 239-206-4273.
About Naples Hotel Group
Naples Hotel Group is a hotel development and management company founded in 1999. NHG has achieved superior results and has a proven ability to enhance the performance of hotels using their experience, responsiveness, and extensive resources. NHG, based in Naples and Orlando, prides itself on building long-term relationships with quality people and organizations. To learn more visit, http://www.napleshotelgroup.com.