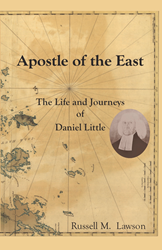 What motivates a person to pursue the Great Commission? What led Daniel Little on his restless pursuit into the wilderness of nature and the mind?
SUWANEE, Ga. (PRWEB) May 01, 2018
"Apostle of the East" follows the life and journeys of Daniel Little, an 18th century American pastor, missionary, and scientist. Due to his work along Maine's eastern frontier, he became known as the "Apostle of the East" by his contemporaries and admirers. He spent much of his life ministering to the English settlers and Indians of the Penobscot valley. Follow his fascinating life story in Russell Lawson's latest book.
"Apostle of the East" is available in hardcover, paperback, and ebook formats (Kindle, Nook, iBook) from Amazon, Barnes & Noble, Apple, and other retailers. It is also available direct from St. Polycarp Publishing House.
Additional information and details are available at apostleoftheeast.com
About the Author
Russell Lawson was born and raised in Tulsa, Oklahoma. His first intellectual interest was in ancient Greek mythology, which led to a lifelong fascination with the history of the ancient Mediterranean. He matriculated at Oklahoma State University from 1975 to 1979, majoring in history. From 1980 to 1982, he studied at OSU for a Master's degree in Ancient Mediterranean history. He earned a Ph.D. in American history from the University of New Hampshire in 1987. He lived in New Hampshire from 1982 to 1991, during which time he researched and wrote on New England history. He has taught at schools in New England, Oklahoma, and Ontario. Dr. Lawson teaches and writes on scientists, explorers, and missionaries; the history of America, Europe, and the world; and the history of ideas. He has written over a dozen and a half books. He is currently Professor of History at Bacone College. He is married, has three sons, and four rescue pups.
About St. Polycarp Publishing House
St. Polycarp Publishing House's mission is to enable the Christian Church to know, understand, defend, and proclaim the faith to the nations. We specialize in printed and electronic books related to Christian theology, apologetics, and history.  We seek to fill the gap between general Christian books and denomination-specific materials by focusing on wider Church topics, the early New Testament Church, and ecumenical and apologetical issues. We are a member of the Independent Book Publishers Association (IBPA), the Christian Small Publishers Association (CSPA), and the Small Publishers, Artists & Writers Network (SPAWN).