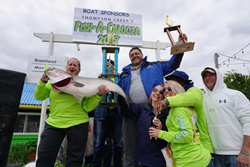 Thompson Creek is the best company to work for because of the culture here, and the fact that ownership and management truly cares about each and every employee.
LANHAM, Md. (PRWEB) April 29, 2018
Despite 40-degree temperatures and 30-knot winds, Thompson Creek Window Company employees celebrated the Company's 15th annual Fish-A-Palooza event today.
Fifteen years ago, Thompson Creek President and CEO Rick Wuest brought his team together in April for a fishing contest to celebrate a year of company milestones and huge successes. He never imagined the one-of-a-kind celebration, which was started to create a fun and competitive spirit between the installation team and the sales/marketing group, would grow to its current size as an annual event. In 2003, 11 people participated in the competition and returned to the Wuest's house for a small backyard barbecue. This year, the entire company was onboard 14 charter fishing boats today leaving out of Kentmorr Marina with an after-party celebration at The Jetty Dock Bar in Stevensville, MD with over 375 guests.
Starting at 5:30 am this morning, Thompson Creek employees had huge smiles on their faces and coffees in hand with high hopes to catch the biggest fish of the day out on the Chesapeake Bay. The goal is to get your name on the massive 1st place Fish-A-Palooza 2018 trophy to be displayed proudly at the Company's brand-new headquarters in Lanham, MD. After six hours of fishing, employees met their guests at the event at The Jetty, which was exclusively closed for Thompson Creek guests for a weigh-in ceremony, open bar, seafood buffet and live band. Due to the extreme weather conditions, the only boat to catch a fish today was "Bonehead," which landed a 43-inch, 29.2-lb. rockfish. The big fish was processed and distributed to employees in lunch boxes to take home to enjoy with their families.
"It's awesome to be able to give back to our company and let employees celebrate after a year of hard work with an event like this," said Rick Wuest. He continues to prove each year that Thompson Creek thrives on motivation, competition and fun—which has been proven by record-breaking sales every month this quarter.
Suzette Ricco, Customer Service Representative, said, "Thompson Creek is the best company to work for because of the culture here, and the fact that ownership and management truly cares about each and every employee. They care, they appreciate, and they reward. Teamwork and family—that's what Thompson Creek is about."
If you or someone you know loves competition, fun, teamwork and fishing, Thompson Creek is searching for highly motivated and talented employees as the Company continues to expand its service area and brand recognition in new territories. Apply at http://www.thompsoncreek.com/careers and build a career with Thompson Creek Window Company!
# # #
About Thompson Creek Window Company
Thompson Creek Window Company is a privately owned, family operated manufacturer and installer of energy-efficient home improvement replacement products. Founded in 1980, the Company has evolved into one of the leading specialty home improvement manufacturing and contracting companies in the nation. We provide top-quality replacement windows and doors, vinyl siding, roofing and a clog-free gutter system. Thompson Creek Window Company is headquartered in Lanham, MD, and manufacturers our products in Upper Marlboro, MD, employing more than 400 people in Washington D.C., Maryland and Virginia. The Company's new storefront in Richmond, VA is scheduled to open in June 2018.