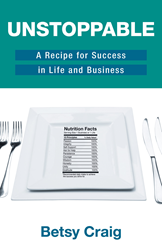 My hands felt like immobile claws. My face was so tight that blood would drip down the sides of my face. Not being able to hug my daughter devastated me. I desperately wanted to give up but knew if I did that, I'd be dead.
FORT COLLINS, Colo. (PRWEB) May 08, 2018
In her new book Unstoppable: A Recipe for Success in Life and Business, Betsy Craig shares a roadmap to conquer life's challenges and to live with purpose. For Craig, her journey began when she got sober at the age of 20 after years of alcohol and drug abuse, then beat the odds against the autoimmune disease scleroderma that wanted her dead and now she's the CEO of her own million-dollar company, MenuTrinfo®.
Through her determination and spirit, Betsy became a leader in the foodservice industry protecting lives and health through nutrition and food safety training showing all along the way what it means to be unstoppable.
Over the past 30 years, Betsy has lived by a set of 10 guiding principles that are the key ingredients in her recipe for success. They have helped her navigate through challenges and celebrate triumphs. In her book, Craig empowers the reader to not only cope but to create abundance out of trying circumstances.
Craig speaks from direct experience, with grace, humor, and humility. Alcoholism brought Craig to the brink of death as a teen. When she got sober at 20, her spiritual quest began. Then, at 39, in the picture of health, Craig was diagnosed with scleroderma. She was given 18 months to live.
Scleroderma, translated from Greek as "hard skin," causes tightening of the skin and connective tissues that provide the framework for your body. In many, such as Craig, it also damages internal organs and the digestive tract. Craig weaves lessons in overcoming fear amid graphic episodes from her ongoing battle with chronic illness.
"My hands felt like immobile claws," said Craig. "I couldn't button my own pants. My face was so tight that my ears were pulling away at the earlobe and blood would drip down the sides of my face daily. I walked around feeling like a leper. Not being able to hug my daughter or husband without it causing excruciating pain devastated me. I desperately wanted to give up but knew if I did that, I'd be dead."
Considered rare, an estimated 300,000 Americans have the disease. Currently, there is no cure.
During a debilitating round of chemo, Craig pledged that if she survived she'd do something worthwhile in her life. Having reduced her scleroderma symptoms by avoiding foods that tend to cause inflammation, she formed a vision to challenge prevailing paradigms in the food industry. Craig committed to helping the 15 million people in the U.S. with food allergies, some life-threatening. Each year in the U.S., 200,000 people require emergency medical care for such reactions, according to Food Allergy Research & Education.
"This book is an inspiration to those impacted by scleroderma as well as entrepreneurs and business women everywhere," said Cyndy Besselievre, Executive Director of the Scleroderma Foundation, Rocky Mountain Chapter. "[Craig] is a true testament that anything can be overcome and that we can all achieve our goals in life with passion, integrity, facing our fears and persistence."
In Unstoppable, Craig opens her playbook. On the heels of the economic downturn in 2010, Craig launched MenuTrinfo®, a menu labeling and nutritional help desk service. Today, her woman-owned company has grown into a million-dollar business. She's developed services that include certification for allergen and gluten-free products and food allergy training.
Craig lays out road-tested, successful strategies deployed during her tenure at MenuTrinfo®. These include disciplined focus; learning when to pivot; self-belief and playing on your strengths; leading with love, kindness, and gratitude; building team culture; delivering on goals; and, nurturing clients.
"To me, the principle of persistence equates to being unstoppable," said Craig. "It's about facing challenges head-on and not giving up until you have succeeded or tried every avenue possible and once you have tried everything possible you dig a little deeper and try just a few more things."
A portion of the proceeds from the sales of Unstoppable will be donated to the Rocky Mountain Chapter of the Scleroderma Foundation.
Unstoppable – scheduled for release Jun. 5 – is available for pre-order as an e-book and paperback on platforms such as Amazon, iBooks, Kindle, Nook, and Ingram.
Visit betsycraig.org for the full media kit that includes an infographic, sell sheet, sample Q&A, photos, book cover, excerpt, and table of contents.
Follow Craig's care journey on her Facebook page and LinkedIn profile.
Media inquiries
Dave Rizzotto
dave@signaltoaction.com
970-658-0817