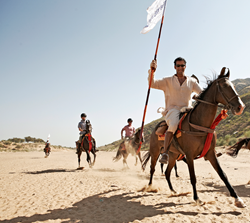 Those with a spirit for adventure are looking for a purpose to their travels: a way to play a part in positive change, engage with local communities and come away feeling truly aligned and enthused. This ethos lies at the very heart of Relief Riders International.
GREAT BARRINGTON, Mass. (PRWEB) May 02, 2018
May 2018: Setting the agenda for adventure travel with a purpose, Relief Riders International announces two spectacular rides for 2018: July's Andes/Amazon Relief Ride through Ecuador and November's Pushkar Relief Ride to the famous Pushkar Camel Fair in Rajasthan, India.
For over a decade, Relief Riders International has taken intrepid explorers on unforgettable horseback journeys to the most far-flung corners of the earth. From the mountains and rainforests of South America to the open plains and rolling dunes of Rajasthan, each ride offers an unforgettable adventure. Riding through remote and unspoilt landscapes to provide humanitarian aid to local rural communities, Relief Riders International quite literally takes you off the beaten track.
Taking the art of slow travel into a new realm, Relief Riders International is as much about philanthropy as it is self-discovery: escaping the hustle and bustle of everyday life to re-set, re-connect and re-boot. Think mornings waking up under canvas to the sound of birdsong; days spent crossing plains, valleys and mountains on beautiful Marwari and Criollo horses; and evenings around the campfire sharing safari tales over a hearty supper.
Behind each ride is a genuine and pressing humanitarian cause. Since 2004, Relief Riders International has improved the lives of 25,000 people, including 18,700 children across India, Turkey and Ecuador. It is this philanthropic bent that sets Relief Riders International apart from other horse safaris. While the Andres/Amazon Relief Ride is in conjunction with the Ecuadorian Red Cross and includes two medical camps (covering ophthalmology, dentistry, CPR and gynaecology), November's Pushkar Ride focusses on resourcing remote schools, the Give A Goat programme and a dental, eye and obstetrics medical camp.
Each ride is different from the last and carefully tailored to its unique group of riders. The Andes/Amazon Relief Ride (from 20 July – 1 August 2018) begins on the Andean Plateau – home to the Quechua tribe – and leads down through the cloud forest before crossing to the Amazon (by plane, canoe and on foot) to spend time with the Sàpara people, an indigenous tribe known for their encyclopaedic plant knowledge. Meanwhile, the Pushkar Relief Ride (11 – 20 November 2018) crosses through the ancient Thar Desert to the internationally-renowned Pushkar Fair, the world's largest horse and camel fair: a major Rajasthani festival involving traditional dancing, live music, acrobatics, sports, fairground rides, local sellers and all-day feasting - a spectacle on an epic scale.
Relief Riders International is the brainchild of Alexander Souri who – in 2010 – received a UN Positive Peace Award for his humanitarian efforts. Commenting on 2018's upcoming adventures Souri says:
"Quite apart from the spell-binding scenery and fantastic riding, our trips are about so much more than an adventure through the wilds. From the outset, Relief Riders International has pioneered humanitarian-led adventure travel, focussing on remote and often-overlooked communities, ranging from the depths of the Amazonian rainforest to the ancient plains of Rajasthan. Those with a spirit for adventure are looking for a purpose to their travels: a way to play a part in positive change, engage with local communities and come away feeling truly aligned and enthused. This ethos lies at the very heart of Relief Riders International."
Relief Riders International offers three small group trips each year:
July 2018 Andes/Amazon Relief Ride (20 July – 1 August) The November 2018 Pushkar Relief Ride (11 – 20 November) and The February 2019 Khimsar Relief Ride (February 19 through March 2nd)