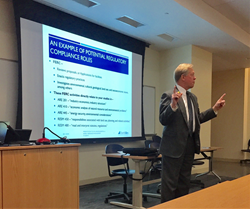 "...keep jobs here at home with students trained right here in West Virginia."
MORGANTOWN, W.Va (PRWEB) May 01, 2018
EarthRes Group, Inc., a full-service engineering and consulting firm headquartered in Bucks County, PA, and with an Appalachian Regional Office in Morgantown, WV, was invited to present to West Virginia University Environmental & Energy Resource Management Students on career opportunities within the oil and gas industry.
On Wednesday, April 11, 2018, Howard G. Murphy, Jr., P.E., Director of Energy Services at EarthRes, spoke to over 30 Environmental and Energy Resource Management students regarding career opportunities within the petrochemical industry.
"As a whole, the petrochemical industry is poised for growth, with slated development and projected production levels positioning the US to be the global leader in the next 10 years. There is estimated to be $145 billion in petrochemical industrial facility expansions in the US by 2025, with several petrochemical operations slated for development in the WV/OH/PA tristate area*. The Appalachian Basin, is slated to be supplying 40% of America's total natural gas production in the next 12 years,**" states Howard Murphy at EarthRes.
Murphy continues, "This regional expansion will require appropriate infrastructure development, greatly improving the regional economy and job market for trained energy professionals. We are happy to help cultivate these students to be future oil and gas young professionals and keep these jobs here at home with students trained right here in West Virginia."
Serving clients in the Solid Waste, Mining, Oil & Gas, Government, Industrial and Commercial sectors, EarthRes delivers innovative and integrative engineering solutions that keep our clients successful. With offices in Pipersville, PA and Morgantown WV, EarthRes takes pride in our unique ability of being able to establish long term client relationships through a culture of trust, sound ethics, open communications and solid project management principles.
Sources:
*Petchemupdate: http://analysis.petchem-update.com/engineering-and-construction/phillips-66-eyes-second-mega-cracker-cp-chem-joint-venture February 22, 2018
**Jacobs, Nicole. Energy in Depth Appalachian Basin https://www.energyindepth.org/new-report-finds-appalachian-basin-is-most-profitable-place-in-u-s-to-build-petrochemical-plant/ March 20, 2018.
More information on EarthRes can be found at http://www.earthres.com, or by calling 800-264-4553.