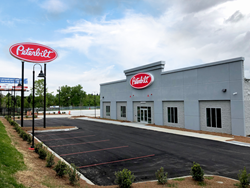 The Larson Group recently announced it plans to open a state-of-the-art, 62,000-square-foot Peterbilt of Charlotte dealership facility on May 7.
CHARLOTTE, N.C. (PRWEB) May 01, 2018
The Larson Group (TLG), a Peterbilt dealer company with more than 20 locations, recently announced it plans to move its Charlotte, NC. operation to a facility more than double the size of its existing one. Slated to be completed on May 7, the move is in response to Peterbilt of Charlotte's unprecedented growth since TLG first acquired the location in 2015 and will provide more customer accessibility to TLG's services and offerings in that locale.
Industry-Forward Amenities and Features
At approximately 62,000 square feet set on a ten acre tract of land, the new Peterbilt of Charlotte location will accommodate much more space than the existing building's 27,000 square feet. Roughly 13,000 square feet of the new facility will be dedicated to a parts warehouse while 2,800 square feet will contain a new parts showroom. In addition, the building will house 20 truck service bays (including two natural gas bays), an in-ground alignment system, a dedicated triage lane, and a FSX DPF cleaning system.
Located conveniently off Interstate 85 at 3917 Trailer Drive in Charlotte, the new Peterbilt dealership location will be a five minute drive from the previous dealership. The new location will open on May 7.
"We were fortunate to find such a great facility on I-85—so close to the original Peterbilt of Charlotte," said TLG Chief Financial Officer Mike Headley. "Providing the most up-to-date technology and space is always a top priority for our customers and employees, so this move will only continue to allow our dealership to provide best-in-class customer service."
Crafting a First-Class Customer Experience
A winner of the coveted Peterbilt Dealer of the Year award in 2016, TLG's commitment to providing the best in Peterbilt customer service will be on display in the new facility's stylish, contemporary driver's lounge and fully staffed parts call room.
"Our staff must also feel that their workspace is as excellent as the customer service we provide," said Southeast Regional VP Randy Kirk. "This new state-of-the-art dealership will certainly lead to an even better experience for our customers."
About The Larson Group Peterbilt
The Larson Group has been providing quality Peterbilt products and exceptional service across the Midwest and Southeast for 30 years. TLG has built teams of qualified, highly trained professionals to provide customers the best service for their commercial transportation needs at 18 Peterbilt facilities located across Arkansas, Illinois, Indiana, Kentucky, Missouri, North Carolina, South Carolina and Ohio.
For more information about The Larson Group's Peterbilt parts inventory or to experience its exemplary customer service first-hand, call 417.865.5355, visit www(dot)TLGtrucks(dot)com or contact Marketing Coordinator Stephanie London at slondon(at)tlgtrucks(dot)com.