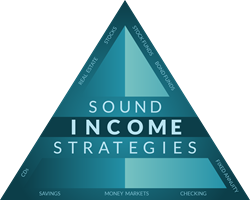 Armed with insights gained from a lifetime of study of stocks and investment alternatives, David Scranton offers perspectives investors should not ignore in these turbulent times where so many of the 'old rules' are being obliterated. — Steve Forbes
FORT LAUDERDALE, Fla. (PRWEB) May 01, 2018
Sound Income Strategies, LLC, a full-service financial firm dedicated to helping individuals and families meet their immediate and long-term financial objectives, announced today that it has reached $500 million in assets under management.
Founded by David J. Scranton in January of 2015, Sound Income Strategies is made up of experienced investment management specialists who actively manage their clients' portfolios with the goal of maximizing income first and opportunities for growth second.
Although Sound Income Strategies works with a wide range of clients nationwide, it specializes in helping those who are in or near retirement. Sound Income Strategies maintains a core belief that clients have the right to custom and innovative financial advice along with counsel and recommendations that are appropriate for their particular income needs and level of risk tolerance.
The firm's founder, David J. Scranton, has gained a level of notoriety during his 30 years in the industry as an advisor who is particularly protective of his clients' assets. For the past 20 years, he has specialized in the universe of income-generating saving and investment strategies. Throughout his career, David has been sought out to share his insights on the financial markets on networks like CNBC, Bloomberg, and Fox Business.
In 2016, David started his own TV show, The Income Generation, which airs weekly on Newsmax TV. Broadcast to over 50 million households nationwide every Sunday at 10:00 AM, the show educates individuals on the importance of purpose-based investing, especially for those who are 10 to 15 years from retirement or are already in retirement.
David Scranton has written two books, with a third one in the works. In 2011, he wrote Stop the Financial Insanity: How to Keep Wall Street's Cancer from Spreading to Your Portfolio and, most recently, he became an Amazon bestselling author with the book Return on Principle: 7 Core Values to Help Protect Your Money in Good Times and Bad.
Steve Forbes, Publishing Executive and Editor-in-Chief of Forbes Magazine says, "Armed with insights gained from a lifetime of study of stocks and investment alternatives, David Scranton offers perspectives investors should not ignore in these turbulent times where so many of the 'old rules' are being obliterated."
"David is an important thought leader; always worth the read," says Peter Morici, a recognized expert on economic policy and International Business Professor at the Robert H. Smith School of Business at the University of Maryland.
About Sound Income Strategies: Sound Income Strategies is a Registered Investment Advisory firm specializing in active management of individual fixed-income securities. With their unique expertise and experience, the firm focuses on maximizing the value of their clients' fixed-income portfolios and then building retirement plans that deliver consistent income, growth potential, and, most importantly, defense against damaging losses.
As a Registered Investment Advisory firm, Sound Income Strategies diligently honors their fiduciary responsibility as spelled out in the U.S. Investment Advisors Act of 1940. Their goal is to always act and serve the best interest of their clients.
###
For more information contact: Pam Reimer