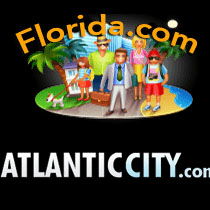 "The look to book ratio for hotels and vacations can approach 3 to 4 percent. Based on organic traffic of a conservative number of 500 to 800 people a day, the direct revenue can be significant."
BOCA RATON, Fla. (PRWEB) May 01, 2018
AtlanticCity.com and Florida.com are currently available for sale, offering investors, businesses, marketers and entrepreneurs a rare chance to acquire a high-profile domain.
"Top-level domains like these do not come on the market very often," says David Kaleky, President of Florida.com Inc. "This represents a valuable investment opportunity for potential buyers."
The enormous potential value of Florida.com and AtlanticCity.com lies in their status as top-level domains—and extremely popular ones. That's not surprising, given that Florida and Atlantic City are among the top places where people want to live, work, play and travel. Consequently, Florida.com and AtlanticCity.com are highly-desirable domains, and they can make a significant amount of money for the right investor. Buyers can use these domains to create high-traffic sites that promote hotel rooms, gambling, vacations and other industry-specific products and services.
In particular, Florida.com and AtlanticCity.com have been in the travel and Internet business successfully since 1994. Currently, Florida.com is being used to advertise some of the best hotels in Orlando. Visitors to the site can get information about flights, car rental and discount Disney tickets, as well as read a blog and sign up for daily deals. AtlanticCity.com features information about hotels, casinos, entertainment and other attractions in Atlantic City. It also highlights Atlantic City news, daily entertainment specials, and hotel and restaurant reviews. Or course, the new owners of these domains can make strategic adjustments to best fit their business goals. "The buyers will undoubtedly rebrand the sites to their product to take advantage of the organic traffic and name recognition," Kaleky says.
Besides leveraging the popularity of Florida.com and AtlanticCity.com, the new owners of these domain names can also enjoy the intrinsic benefit of having top-level domains. Top-level domains are the oldest domains in the DNS root zone of the Domain Name System of the Internet. Across the Internet, the .com extension represents the "gold standard" in domain names. It is the most highly-prized and sought-after domain extension—which makes it among the most valuable. In addition, individuals who own domains with this extension can use ICANN's private Whois service, which enables them to conceal their identity and avoid spam. ICANN (Internet Corporation for Assigned Names and Numbers) is a nonprofit organization responsible for coordinating the maintenance and procedures of several databases related to the namespaces of the Internet, including the global Domain Name System.
Since Florida.com and AtlanticCity.com bear the coveted ".com" extension, they can provide buyers with a number of additional advantages. For example, buyers will have the freedom and flexibility to use these generic top-level domains for almost any type of website, regardless of their content. And the domains can be used on behalf of for-profit businesses as well as nonprofits, schools, private individuals and other entities.  
Moreover, buyers can use Florida.com and AtlanticCity.com to create a site with a web address that is easy-to-remember so visitors can return again and again. The new owners of Florida.com and AtlanticCity.com can also capitalize on the trust that well-recognized top-level domains tend to foster with consumers. They can also leverage the organic (free) traffic from consumers who type Florida.com and AtlanticCity.com directly into their web browser. And this can translate into considerable financial benefits for the owners of websites with these domain names, according to Kaleky. "The book ratio for hotels and vacations can approach 3 to 4 percent," he says. "Based on organic traffic of a conservative number of 500 to 800 people a day, the direct revenue can be significant."