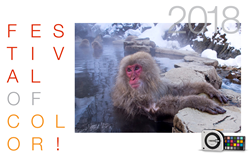 NORTH WHITE PLAINS, N.Y. (PRWEB) May 01, 2018
A celebration of calibration, savings and education providing color workflow revelations that will exceed your expectations.
X-Rite is pleased to announce their fifth annual Festival of Color starts today online and at local dealers across the USA and Canada with incredible savings, education and live events.
Color Perfectionists will be celebrating their love of color from May until the end of June with incredible savings on X-Rite products plus exciting in-store events including free monitor calibrations designed to show the numerous benefits that result from a color managed workflow.
Big Savings...up to $100 off (via online rebate*)
Online rebates are available on many popular X-Rite Color Management Solutions covering every aspect of color management from capture through edit and printing. This is the ideal time to purchase the incredible new i1Studio, the popular i1 Photographer or Filmmaker Kits as well as the perennial favorites in the X-Rite ColorChecker Collection.
Free Monitor and Laptop Calibration
At participating dealers, end users can bring their own devices in for a complimentary monitor or laptop calibration so they can see the benefits on their own devices.
Training and Education
Live events will cover the latest, easy to use, professional color management solutions from X-Rite as well as color management and printing seminars and workflow discussions for photographers and filmmakers. An online library of training resources will cover everything Color Perfectionists need to perfect their color and perfect their story.
For a complete list of events and further details, visit http://www.xritephoto.com/festivalofcolor
*Online rebate expires June 30th. Valid in U.S. and Canada only. Offer must be redeemed by July 15th 2018. Redeem offer at http://www.rapid-rebates.com/xrite
About X-Rite:
Founded in 1958, X-Rite Incorporated is a global leader in the science and technology of color and appearance. With its wholly owned subsidiary Pantone, X-Rite employs more than 800 people in 11 countries. The company's corporate headquarters are located in Grand Rapids, Michigan, with regional headquarters in Europe and Asia and service centers across Europe, the Middle East, Asia and the Americas. X-Rite Pantone offers a full range of solutions used by manufacturers, retailers, printers, photographers, filmmakers, and graphic design houses to achieve precise management and communication of color and appearance throughout their processes. X-Rite Pantone products and services are recognized standards in the printing, packaging, photography, graphic design, filmmaking, automotive, paints, plastics, textiles and medical industries. For further information visit http://www.xrite.com or http://www.xritephoto.com
About MAC Group:
MAC Group is a sales, marketing and distribution company dedicated to supplying photographers, videographers, educators and students with the world's finest image-making tools, education and inspiration. For more information on the MAC Group, please visit: http://www.MACgroupUS.com
Contact:
EU Media Contact:
Melanie Johnson
Email: melanie.johnson(at)bubblesqueak(dot)agency
Tel: +44 (0) 1753 656 548