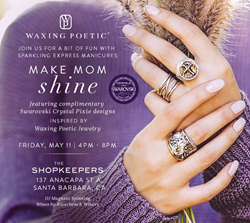 We couldn't think of a better brand to partner with this Mother's Day to help treat moms to some extra sparkle and shine on such a special weekend.
SANTA BARBARA, Calif. (PRWEB) May 02, 2018
Waxing Poetic, a women's jewelry brand known for its handcrafted and meaningful charms, pendants, necklaces and bracelets, will be hosting an up-coming special event with Swarovski crystals to celebrate moms. Just in time for Mother's Day weekend the event will be held at Waxing Poetic's flagship Santa Barbara store location. The event's theme will be to help mom sparkle and shine and will feature many of the pieces in Waxing Poetic's jewelry collection that are crafted using crystals from Swarovski. To add extra sparkle to the event, Swarovski's Crystal Beauty Academy – trained professional, stylists will be offering all attendees free manicures using their Crystalpixie advanced nail art.
Waxing Poetic and Swarovski crystal teams will both be at the event to make it a hands-on experience about truly recognizing and celebrating mothers and their place in our hearts. "Both brands employ impeccable craftsmanship, have the highest quality standards and make uniquely meaningful creations," said Patti Pagliei, Founder and Creative Director. "We couldn't think of a better brand to partner with this Mother's Day to help treat moms to some extra sparkle and shine on such a special weekend."
Patti Pagliei will also be at the event to personally share some of her favorite jewelry pieces that were created using Swarovski crystals. One such piece is Waxing Poetic's Light Loves Through charity pendant released earlier this year in response to the devastating fires and mudslides the Santa Barbara community recently experienced. 50% of the pendant's net proceeds are being donated to help with the recovery of the community. The pendant's design shows partly a starry night sky and partly beams of sun which represents a remembrance and also a beacon of love and renewal for those who wear and see it. The pendant makes a wonderful gift for mom that also gives back .
Event Information:
The Make Mom Sparkle and Shine event will be held at Waxing Poetic's flagship location, The Shopkeepers at 137 Anacapa St A, Santa Barbara, CA 93101. The location is in the heart of Santa Barbara's Funk Zone known for its unique shops, 20+ wine tasting rooms, craft restaurants and art galleries. The event will be held on Friday, May 11th from 3pm until 8pm. The event will also feature local businesses, including DJ Magneto, complimentary Riverbench wine and food. There will also be a free gift with qualifying purchase and a giveaway.
About Waxing Poetic:
Waxing Poetic: Headquartered in Carpinteria, CA, just outside Santa Barbara, Waxing Poetic was founded over 17 years ago by two sisters, Patti & Lizanne, who combined their passion for family, friends, faith and their love of jewelry. Handmade in Bali using artisan techniques, the jewelry pays homage to the journey of our lives: where we come from, what our stories are, and how they have influenced both the world, us and all of those we love.  Waxing Poetic jewelry is available at http://www.waxingpoetic.com, in more than 550 boutiques and stores throughout the US and Europe, and through their social selling network of consultants at http://personallypoetic.com.  
About Swarovski Professional:
Swarovski has been the premium brand for fine crystal embellishments since 1895. It is recognized for its innovative excellence and for its collaborations with world-class designers and brands from the fashion, jewelry, accessories, interiors and lighting industries. Available in myriad colors, effects, shapes and sizes, crystals from Swarovski offer designers an unrivaled palette of inspiration born out of a passion for detail and high-precision cutting. These precious ingredients impart a refined glamour to everything they embellish and are produced according to the groundbreaking lead-free* Advanced Crystal standard. The 'Crystals from Swarovski' seal, incorporating a sophisticated tracking system with a unique identification number to reinforce authenticity, enables customers to distinguish products embellished with genuine Swarovski crystals.
http://www.swarovski.com/professional
*Crystal glass and all other materials containing 0.009% lead or less.