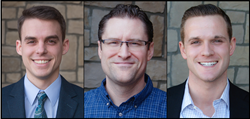 A dual approach to compliance...is really one of the best ways to achieve justifiable HIPAA confidence.
SPRINGFIELD, Miss. (PRWEB) May 01, 2018
According to MCG Compliancy's article published in the March 2018 Ophthalmology Business, most compliance solutions on the market are incomplete, leaving many medical practices and ambulatory surgery centers (ASCs) open to violations in a time of rising penalty severity. The article titled "Software and specialist: A comprehensive approach to HIPAA compliance confidence" outlines how best to fully protect a facility and its doctors. Authors Brock Fick, Brendan Gallagher, and Tripp Rabourn are three of the core experts leading MCG Compliancy, a company of Medical Consulting Group.
"One of the primary reasons we wrote this article was to draw attention to the fact that there has been a significant rise in the enforcement of HIPAA rules and regulations," says Rabourn, MCG Compliancy Client Development Specialist. "Even though compliance violation fines have tripled since 2015, the OCR's Phase 2 study results showed that HIPAA noncompliance is still widespread among the majority of covered entities and business associates."
This should be a real concern for ophthalmic facilities according to Gallagher, Director of Technology, who warns that the financial ramifications of noncompliance are not limited to fines but may also include consumer fallout. He states that, "More than half of the consumers who participated in a 2017 study stated they would leave their provider if a data breach occurred. Many breaches can be traced back to insufficient compliance."
"A dual approach to compliance, utilizing both HIPAA software tools and an outsourced compliance specialist, is really one of the best ways to achieve justifiable HIPAA confidence," says Fick, MCG Compliancy Implementation Specialist. "Especially when you consider the stakes and the degree of complexity involved, as well as how busy most practices and ASCs already are while pursuing their main objective, caring for patients. We hope this article paints a clearer picture of the current HIPAA compliance landscape and lights a fire under facilities to encourage them to start looking into an easier, more complete way to protect themselves and provide the best possible patient care."
To read the full article, view the March 2018 issue of Ophthalmology Business.
To learn more about MCG Compliancy and its services, visit the Medical Consulting Group website or contact Tripp Rabourn at (417) 459-8979 or trabourn@medcgroup.com.
MEDICAL CONSULTING GROUP, LLC
The medical business solutions provided by Medical Consulting Group include ASC and practice consulting, development, and management, as well as compliance oversight and revenue cycle management. They also specialize in custom multi-media marketing and advertising campaigns, including co-op consumer marketing management. These services are the product of nearly 30 years of immersion in the ophthalmic and healthcare business industry, among various other medical specialties. Learn more at MedCGroup.com.