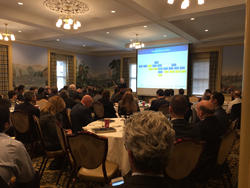 "Everything depends on data," says Johna Till Johnson, CEO of Nemertes Research. "Effective data management is critical for next-generation risk management, predictive analytics, and emerging technologies such as AI and machine learning."
NEW YORK (PRWEB) May 03, 2018
The Wall Street Technology Association, a not-for-profit organization that provides Financial Services professionals a forum to learn from and connect with each other, will host a seminar on "Distributed Data Management" followed by a panel discussion on "Predictive User & Risk Analytics" on May 9, 2018 in New York City. Speakers at this event include Keynote: Johna Till Johnson, CEO & Founder, Nemertes Research; Premier Speaking Sponsor: NTT DATA; Speaking Sponsors: Forcepoint, Nutanix, and Qlik; Panel Sponsors: Netskope and Tamr. For more information, please visit: https://www.wsta.org/events/event/distributed-data-management-seminar-predictive-user-risk-analytics/
"Everything depends on data," says Johna Till Johnson, CEO of Nemertes Research. "Effective data management is critical for next-generation risk management, predictive analytics, and emerging technologies such as AI and machine learning."
Seminar and Panel Overview
Cloud adoption, Big Data, the emergence of Blockchain, and a threat environment on steroids have combined to change the face of Enterprise Data Management. Add in the evolving global regulatory landscape and enterprise data managers have a major challenge on their hands: How to ensure effective data management while enabling users to make maximum use of data (wherever it resides)?
And the stakes are high: Research has consistently shown that organizations that leverage data effectively see massive increases in revenue growth and are better able to take advantage of disruptive technologies to enhance business processes and engage customers. Simply put, these "High-data-IQ" companies are doing more, and doing better, than others.
To become one of those "High-data-IQ" companies requires effectively applying AI, machine learning, and predictive analytics. It also means applying effective data governance and risk mitigation to protect users and their data. This combined seminar and panel will cover the present and future challenges that Data Management practitioners face and how to deploy these and other technologies to effectively address this critical enterprise function.
About the Wall Street Technology Association (WSTA)
For over 50 years, the Wall Street Technology Association (http://www.wsta.org) provides Financial Industry professionals, vendors, service providers, and consultants forums to learn from and connect with each other. The WSTA facilitates seminars and networking events where members meet and exchange ideas and best practices that assist them in effectively capitalizing on technology advances and dealing with financial industry business challenges. Founded in 1967, the WSTA is a not-for-profit association with a long history of evolving to meet the needs of its members.
Nemertes Research is a global research-based advisory and consulting firm that analyzes the business value of emerging technologies. Since 2002, we have provided strategic recommendations based on data-driven operational and business metrics to help organizations deliver successful technology transformation to employees and customers. Simply put: Nemertes' better data helps clients make better decisions. http://www.nemertes.com