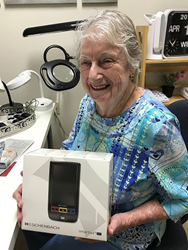 We go the extra mile to make sure our customers know how to use their equipment effectively to get the maximum benefit.
(PRWEB) May 02, 2018
The Florida Vision Technology Center, a leading provider of assistive technology vision products in South Florida, had its Grand Opening celebration on April 18th. The event showcased their new, central Broward County location in Fort Lauderdale, and honored over 18 years in business in South Florida.
During the Grand Opening celebration, the staff was on-hand to give tours of the new space. Vision aids line the walls, arranged by type, with everything from daily living aids, portable handheld magnifiers to desktop video magnifiers, braille embossers, and cutting-edge technology such as OrCam MyEye and Magnilink One.
The Florida Vision Technology Center sets itself apart. Lesa Kretschmer, Founder and CEO, employs several individuals with visual impairments for key roles in the business including the store's manager, administrative office staff, a sales associate, and their expert blindness products consultant. "My staff can relate to our customers on a deeper level, having shared experiences. They can make product recommendations they have personal experience with to match the customer's unique needs", Kretschmer states.
For larger, desktop video magnifiers, the devices are delivered, unboxed, and set up for the customer. Kretschmer, or a staff member, provides a complimentary overview in the customer's home so they're comfortable using it on their own. Kretschmer states, "We pride ourselves on personalized customer service. We go the extra mile to make sure our customers know how to use their equipment effectively to get the maximum benefit."
To appreciate their current customers and welcome new customers, Kretschmer sponsored a Grand Prize raffle for their Grand Opening event featuring the Eschenbach SmartLux portable, handheld, digital magnifier. The Grand Prize raffle winner, Sue Gallaway of Davie, Florida, exclaimed in an interview, "I'm so thrilled, I've never won anything before. This is wonderful." Gallaway explained further, "My old 5x magnifier doesn't do the job any more. I haven't been able to read like I used to. This is perfect!"
John Ryan, Florida Vision Technology Center's Store Manager, provided Gallaway with a comprehensive orientation on her new device. Galloway plans to get back to doing the things she loves, reading the paper, reading letters, and staying connected. After the training session, Gallaway exclaimed, "I desperately needed this!"
Kretschmer adds, "We're committed to placing adaptive technology exactly where it belongs, in the hands of the end user. We know can help even more people in the community by offering more new technology, more products, in our new, bigger location."
About Florida Vision Technology Center
The new Store is conveniently located at 2880 W. Oakland Park Boulevard, Fort Lauderdale, Florida, 33311. To connect with Florida Vision Technology, visit their Facebook page facebook.com/FloridaVisionTechnology or sign up for their newsletter. To learn more about the company and its efforts, watch this video.