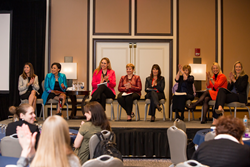 As the struggle for gender balance in the workplace continues, nowhere is there more opportunity — or potential disaster — than in the tech sector
DELRAY BEACH, Fla. (PRWEB) May 01, 2018
Research indicates almost all organizations (94%) have women working in technical roles, but 70% have women employed in less than one quarter of their technical jobs, according to Brandon Hall Group's recent Women in Technology Leadership Study. This research was conducted in partnership with Blue Circle Leadership and its founder, Bonnie St. John.
"As the struggle for gender balance in the workplace continues, nowhere is there more opportunity — or potential disaster — than in the tech sector," Brandon Hall Group Chief Operating Officer Rachel Cooke said. "The new Women in Technology Leadership research paints a compelling picture of the changes organizations must make to increase women's participation in technology jobs and in technology leadership. In 70% of organizations, women are employed in less than one-quarter of technical jobs. Only 20% of organizations with a chief information office or equivalent position employee a woman in that role and advancement strategies are lacking in a variety of organizations."
Diversity training and establishing diversity targets are the most frequently used strategies to advance women in technology, but they rank low in perceived effectiveness. Job sharing, and support and mentorship programs aimed exclusively at grooming women tech leaders are considered the most effective strategies, although they are used about half as often as diversity programs.
Lack of role models and lack of targeted development are considered the biggest barriers to growing women's leadership opportunities in technology, though many barriers were cited almost as frequently.
"But what the research shows is that there is a very strong correlation between organizations with effective advancement programs for women in technology and those realizing significant year-over-year gains in key business metrics," Cooke said. "In other words, utilizing more women more effectively in technology makes business sense. The research highlights this, our Women in Leadership Summit in June will have sessions focusing on it and we've launched a Women in Technology Leadership Network to serve as a catalyst for meaningful change."
The online survey gathered responses from 54 countries and 36 industries. The data was collected in February and March 2018.
Download a Snapshot of this study now: http://go.brandonhall.com/women+in+technology+leadership_PR
Join our complimentary webinar, Advancing Women in Technology Leadership, as we discuss the findings of this research May 8, 2018 at 1:00 pm Eastern. Join Rachel Cooke, COO at Brandon Hall Group and Bonnie St. John, CEO at Blue Circle Leadership on this webinar to dive deeper into this and other key findings.
There will be more on this topic at Brandon Hall Group's Women In Leadership Summit, June 5 & 6, 2018. Only valid on new registrations. More information is available at http://www.brandonhall.com/WIL. Hear from industry leaders and participate in the discussion as they share their insights and solutions. Part 1: Advancing Women in Technology Careers and Companies and Part 2: Creating Solutions to Gender Inequity in Technology Leadership.
---
About Brandon Hall Group Inc.
Brandon Hall Group is a HCM research and advisory services firm that provides insights around key performance areas, including Learning and Development, Talent Management, Leadership Development, Talent Acquisition and HR/Workforce Management.
With more than 10,000 clients globally and 25 years of delivering world-class research and advisory services, Brandon Hall Group is focused on developing research that drives performance in emerging and large organizations, and provides strategic insights for executives and practitioners responsible for growth and business results.
At the core of our offerings is a Membership Program that combines research, benchmarking and unlimited access to data and analysts. The Membership Program offers insights and best practices to enable executives and practitioners to make the right decisions about people, processes, and systems, coalesced with analyst advisory services which aim to put the research into action in a way that is practical and efficient. (http://www.brandonhall.com)
For additional information about our organization please contact Mike Cooke via mike.cooke(at)brandonhall(dot)com or via phone at (561) 306-3576.