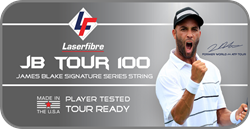 JB Tour 100 is Tour Ready!
TAMPA, Fla. (PRWEB) May 01, 2018
Laserfibre announces the newest addition to its family of cutting edge tennis strings with JB Tour 100. Developed in collaboration with American tennis great, James Blake, this tour-grade co-poly is designed to meet the demands of today's most selective tennis player.
"Working together with Blake on the design of this string was a perfect fit; we collectively sought to deliver a high quality, American-made performance string with specific insight from an iconic American ATP Tour Pro" said Curt Dailey, Principal of Laserfibre.
This string provides exceptional feel, pinpoint control, and is a perfect complement to the Laserfibre line of strings. "We were focused on introducing a string that delivers tour level performance. James' knowledge and direct involvement in the development and testing process was invaluable."
"I am proud to work in conjunction with Laserfibre to deliver a high quality American-made tennis string to the market. This string checks all the boxes for me in creating my signature brand," said James Blake. JB Tour 100 is set to launch in mid to late May.
About Laserfibre, LLC
Laserfibre, LLC is a young, highly innovative racquet string and accessory manufacture with an emphasis on working closely with the racquet sports playing community to deliver products of the highest quality. Laserfibre, LLC is managed by industry veterans Curt Dailey, Josh Hausman and Paul Kid. You can learn more and view the entire Laserfibre product line at: http://www.Laserfibre.com
Contact:
Curt Dailey
Laserfibre, LLC
844-448-3664
cdailey(at)laserfibre(dot)com
http://www.Laserfibre.com