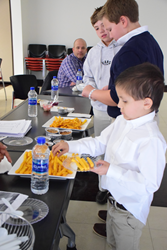 "We are grateful to Chef Brad and the students for taking on this challenge...RMU's involvement in these types of projects really sets them apart as a unique place to learn." Robyn Sexton
CHICAGO (PRWEB) May 03, 2018
At Robert Morris University Illinois, all students must complete at least one internship as a requirement for graduation. Business students seek out work with accounting or management firms, health care students put time in at hospitals or clinics, culinary students work at restaurants, and fitness students often pair up as interns with personal trainers.
Many students complete internships by working on projects through RMU's Center for Professional Advancement. Here, students meet with companies, entrepreneurs and individuals, serving as a student-run consulting firm. RMU design and business students help small companies establish their marketing plans and branding image. Technology students design web sites and apps to help promote business. Culinary students help personal chefs transition to catering businesses. There is no fee for the companies to work with the students, but each team of students must report progress and results to an advising faculty member throughout the quarter.
Recently, the Sexton family approached the Center with a unique project. Robyn and Ward Sexton have three sons. Their youngest, Gavin, is an eight year old with chronic kidney disease. One way to help manage his illness is to ensure that his diet includes healthy food that is low in potassium and phosphorus with minimal amounts of salt, while being tasty and enjoyable for a youngster.
In answer to this challenge of creating such dishes, Phabulous Foods, LLC – Kidney Friendly Foods, has become Robyn's new business endeavor. She and her family met with RMU students and faculty and proposed the project. RMU faculty posted the internship which quickly gained interest from culinary, healthcare, and sports management students – and soon a class of eighteen students were onboard to research, create and present their kidney friendly products.
Throughout the quarter, teams of students created recipes for items such as mac and cheese, cookies, pasta with sweet red pepper sauce, polenta fries, yogurt fruit cups, ice cream sandwiches, and fruit crisps. RMU culinary students directed operations in the kitchens, healthcare and fitness students figured out the dietary requirements, and all students took their turns cooking and baking in the professional kitchen. During finals week, there was a special tasting event of the newly created dishes for the entire Sexton family.
"This was a unique experience for our Center for Professional Advancement," explained Chef Instructor Brad Hindsley. "The goals for the students were to create tasty foods, adhere to the need for low potassium, phosphorus and salt; keep track of all the nutritional information and present it to the Sextons in a professional and confident manner." With each presentation, the students' dishes were judged on appearance, taste, texture, serving size and nutritional values. The ultimate response – a thumbs up or down – would come from Gavin.
RMU students all commented that they enjoyed the uniqueness of the project. "I really don't do any cooking," said one fitness student. "But we all worked as a team. The culinary students obviously know about food preparation and I'm glad I got to experience working in the RMU kitchens. We all had each others' backs."
Happily, the majority of the dishes received positive reviews from the Sexton family. "We are grateful to Chef Brad and the students for taking on this challenge," commented Robyn. "It's not an easy task to create delicious food items for the chronic kidney disease community, and especially ones an eight year old would enjoy. RMU's involvement in these types of projects really sets them apart as a unique place to learn." The next step is for Robyn to take the favorites and establish her line of Phabulous Foods – all created to help her son and other kids with kidney disease, enjoy snacks and meals that are nutritional and delicious.
Robert Morris University Illinois is a not-for-profit, baccalaureate and graduate degree granting institution, accredited by the Higher Learning Commission of the North Central Association of Colleges and Schools.* The University serves students interested in getting an education in business, graphic arts, nursing and health care, culinary and technology at its main campus in Chicago, as well as at locations in Arlington Heights, DuPage, Elgin, Orland Park, Springfield, Peoria, Schaumburg and Lake County. In all communications, please refer to the university by its full name, Robert Morris University Illinois. For more information, call 800-RMC-5960 or visit the web site at http://www.robertmorris.edu
*Higher Learning Commission of the North Central Association of Colleges and Schools, 30 N. LaSalle Street, Chicago, IL 60602, 312-263-0456.